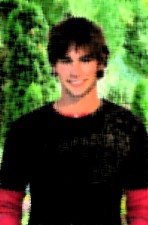 Happy Birthday, Tim Wyman! Now please move out of the spotlight because there's a new guy in town. Speculation has been rampant over who the main character in Something Like Spring will be. When I announced it would be an all new character, I should have been more specific and said a newly invented character. My easily misinterpreted statement led some to believe that "new" meant anyone but Ben, Tim, or Jace. Many people thought Eric would be getting his own book, or even Victor or Ryan. I'm afraid this isn't the case. The season of spring brings with it a fresh start, so it seemed appropriate that we would meet someone we'd never had before.
Why? Well, we've already gotten into Ben, Tim and Jace's heads, and seen each character from the perspective of a person who loves them, or in some cases, a person competing with them. Those are all very intimate perspectives, which made me eager to see Ben and Tim through the eyes of a stranger. That stranger's name is Jason Grant. I know the name doesn't mean anything to you right now, but when you've finished reading Jason's story, I hope he'll become just as special to you as the other guys.
So what exactly is Something Like Spring about? Will Ben and Tim adopt a kid? Is that who Jason is? Not exactly. After three books, a definite theme has emerged for this series. Each book starts with a teenager on the verge of becoming an adult and takes us through their first great love. Then there are jumps in time, allowing us to see their life over multiple stages, with themes of love, loss, and death being tackled along the way. Something Like Spring will be no different, and yet, like each book in the series, it will very much be its own unique journey. But never fear, Spring does tie in with the other books. Rather than give us familiar scenes from a new perspective, this book is supported by a slew of characters from the previous three, and yes, we do get to see what happens to Ben and Tim after the events of Winter. While Jason isn't an adopted child in the traditional sense, he's very much the spiritual successor of one character… maybe two. I'll let you discover who on your own.
That's all I'm willing to reveal for now. Much work remains. With such a rich history to draw from, so many new characters to meet, and untold stories to explore, Spring is shaping up to be another fat book. It continues to be very exciting to write, and I hope that translates to a thrilling read for you guys. I can't nail down a specific release date at this point, but Something Like Spring should be ready to go this winter. As usual, you can be notified the moment it's released by signing up for my newsletter. The quick and easy form is on the left and down a little. Love you guys! Peace out!