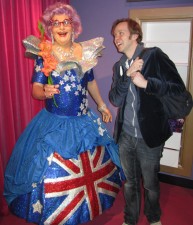 Considering the date, I should precede this by saying none of the below is a joke, or even remotely funny. The only thing wacky here is that I meant to have this news update posted in March, but hey, I'm on vacation. The first of draft Something Like Summer's companion novel is done, From Darkness to Darkness is nearly ready to go, and Kamikaze Boys has just been released. With those three ducklings in a row, I decided to take a break to prevent my head imploding. I already spent a week in Amsterdam where I visited my fairy godmother, as you can see in the photo. Strange city, Amsterdam.
Now for some really exciting news. Something Like Summer is a finalist in 2012's Lambda Literary Awards! If you're not familiar with the Lammies, they're sort of like the Oscars, but celebrate gay books instead of closeted Hollywood celebrities. It's a big fancy shindig and I'm thrilled to pieces to be part of it! I'll be flying to a little town called New York City to see if Summer can score a win in the gay romance category. If not, I'm still deeply honored that Something Like Summer was chosen among the many entrants this year. If anyone wants to hang out with me and Andreas, you can find us at the awards ceremony and the after party. Neither are cheap to get into, but feel free to throw pebbles at the window and maybe I'll come outside. Details and ticket prices for both events can be found here.
Continuing the love for Something Like Summer, there's an extremely flattering article at Joyfully Jay (love the site's name!) where Brahmin talks about her passion for Something Like Summer. She really knows her stuff too! What she says about Tim is dead on and will be made clear in the sequel. There's also a new review for The Cat in the Cradle over at Risingshadow. I have a lot of plans for this series. If this review doesn't convince you to hop on board, I'll get you eventually.
Kamikaze Boys is also doing well, having been reviewed at Jessewave's wonderful site. If that weren't awesome enough, Kamikaze Boys is also My Gay Book Club's selection for April! Reading is a lot less lonely when done in a group. If you've already read it, pop on over there and leave a comment about what you thought. Or join them on Twitter to keep things short and sweet.
Alex Knapp has published an article on Forbes about enhanced eBooks, which may or may not be the new way to read. The idea is enhancing a foggy Jack the Ripper scene with haunting footstep sound effects or even a scream. The article quotes my opinion on this possibility toward the end. I would love to hear your thoughts on enhanced books, even if you don't agree with me.
And finally, to those of you still waiting for Kamikaze Boys to show up on iTunes, I'm very sorry that it hasn't yet. Not that it's my fault. I did everything I was supposed to nearly a month ago and never thought it would take this long. I hate the idea of any of you feeling left out, so with future releases, I plan on cutting out the middleman to avoid delays. Lesson learned! Hmm… I don't want to end on a down note, so here's a photo of me hanging out with Eddie Murphy. Coming to America, baby!