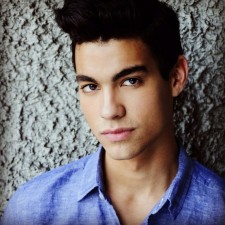 The suspense sure has been building for this one, and to my surprise, that has been a learning experience for me. I know Tim inside and out, but the casting of him made me really boil his character down to a handful of qualities, all of which an actor would require to portray him. Handsome? Yeah, obviously, but that's highly subjective. So at the very least, I was hoping for an actor with dark features, both in regards to skin tone and hair, and one that most people would agree is attractive. Tim's actor would also need swagger. Jace might put on the charm, but Tim knows how to crank up the smolder. He also has his boyishly goofy moments, so the actor would need to be playful. Then there are the rare moments when the mask slips and Tim allows himself to be sensitive, vulnerable, and affectionate. All these things are crucial, and a tall order for any one actor to deliver.
When the movie producers first mentioned the name Davi Santos to me, I was just about to board a flight. I only had enough time to Google him and see that he was hot. That was good. Only later did I seek out every clip of the guy I could find, and boy are there a lot! His beginnings in acting school, solo performances, commercial spots, staring roles in independent films, appearances on major network television, and of course theater. Davi Santos seems to have been everywhere and done everything. This made it harder for me to get a handle on him, because he's all over the place, and I don't mean that in a derogatory sense. Davi Santos seems to live and breathe acting. While watching so many clips that it made my head spin, there were definitely many moments where I saw my Tim. A cocky smile and some shameless flirting. Or moments of introspection and flickers of vulnerability. So yeah, already in my mind, the names Davi Santos and Tim Wyman are becoming synonymous.
All that's needed now is taking all four cast members and putting them in the right situations. It's one thing when a new James Bond actor is announced, but it never feels completely real until we see him doing James Bond stuff. Just imagine Davi Santos squaring off with Ben Baur in an argument, or getting knocked over by Grant Davis cruising along on his Rollerblades. Seriously, just try to picture those things for a moment, because this is really happening. To ensure the movie is a amazing as it deserves to be, we still need your help, so please treat yourself to one of the fun perk packages available on the Indiegogo page and help spread the word. Want to know more about Davi? Check out the new episode of Big Gay Movie below. Also be sure to watch Davi in The Cure, a short film he co-wrote. The boy's got talent!