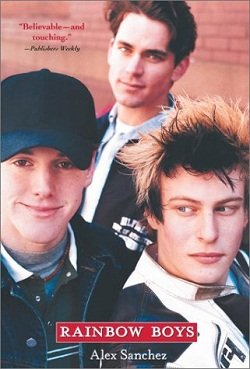 I'd heard a lot about Sanchez's gay trilogy and was delighted to find the first volume, "Rainbow Boys," while visiting my parents. Three must be Sanchez's favorite number, because his novel focuses on three different high school students, each in a different stage of coming out. Nelson is your typical sarcastic queen, out and active in every regard, and Jason is the closeted jock we all dreamed of seducing. Kyle is the "just right" porridge, having come out to his friends and working on being open to his family and the rest of the world. It's Kyle that feels most like the main character and evokes the most sympathies, as he deals with unwanted advances from his best friend Nelson while doing his best to reach out to Jason.
With each chapter the point of view changes, alternating to each boy and allowing the reader into their mind. All three are well realized, imperfect characters that are easy to relate to. This is the strength of "Rainbow Boys." The further you dig into the book, the more you care about the three friends and the more interesting their fates become. Each character has a path to travel as they deal with the hostilities of high school, and by the end of the book each has changed. For those uncertain if they want to invest in reading three volumes, the first book stands well on its own and has a satisfying conclusion, although you'll more than likely want to continue the story with the other two books.
I found this book in the Young Adult section at Borders. I'm not sure who put it there, since the book probably has too many "naughty words" to qualify for this category, but liberal me would recommend this book for all ages. It's just racy enough to be hot while remaining tasteful, and has a healthy dose of heart. Overall, I can see why Sanchez's books have been so successful. His writing style feels a bit shaky in the beginning but finds its stride by the middle of the book. Or maybe I was just distracted by some of the similarities to my second book, "Something Like Summer." I don't mind when great minds think alike, but I prefer it when I get in there first. =) Since I'm still looking for a publisher for SLS, I can happily recommend you give "Rainbow Boys" a go.