Primary shooting on the Something Like Summer movie has been completed. As you might already know, I was on set to witness a fair amount of filming. It's high time I report back to you, my loyal readers, so that you can draw your own conclusions. Where to begin though? I found the entire experience overwhelming, although in the best way possible. I suppose I should tackle the questions I hear most often. Sound good? Let's begin!
What did you think of the actors?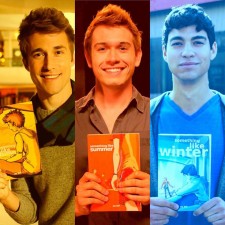 In the comfort of our own homes, most of us have reacted to the casting choices by focusing on the most immediate impression; appearance. While it's only natural to compare the actors to the descriptions in the book or the images in our own minds, what really matters is how talented these people are and how capable they are at bringing the characters to life. In that regard, the casting choices are absolutely inspired! Grant Davis is emotional and loves passionately, just like Ben. Davi Santos has the soul of an artist and is ridiculously handsome, much like Tim. Ben Baur is quirky, cool, and impossible not to adore, making him the perfect Jace. And hey, let's not forgot Allison, the ultimate best friend, who is performed with perfection by Ajiona Alexus. These actors aren't the actual characters—their personalities more complex than my brief descriptions—but they are fairly close to the source material. Enough that I often found the line blurring between reality and fantasy. This is ideal, since each actor has the necessary experience to draw on to portray their character realistically. And if you're worried about acting ability, don't be. Each of them is more than capable!
What about the script?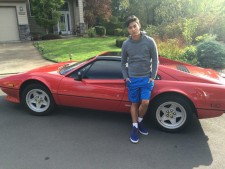 It's different. If you approach this movie expecting it to be exactly like the book, you'll be disappointed. That seems to be what upsets most people when a book they love is adapted to film. While I've had that same reaction, it's not a fair one. My favorite example is the very end of the book, which mostly takes place in Ben's head. Dialog is part of this, yes, but the bulk is spent in Ben's thoughts—his longing, his doubt, a tide of memories and a surge of emotion. Sure, an actor can relay these things with body language or whatever, but it would be pretty silly for Grant Davis to stand there and make a bunch of different faces before finally kissing Davi. There are plenty of examples like this in the book, not to mention budget and time constraints. No matter how much we might wish otherwise, it's simply not possible for the movie to be exactly like the book. That having been said, they've kept as much as possible intact. They've also made some changes, which means you've got a few surprises in store for you. What struck me most about watching scenes being filmed is how different they were when finally realized. What seemed fine in the script was made awesome by a mixture of cinematography and performance. Post production will polish the material even further.
So you think the movie is going to be good?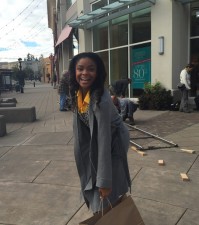 I don't know. That's not a reflection of any doubts I have. I just lack the experience to objectively say one way or the other. From cast to crew, I never felt like anyone wasn't trying their best. Everyone seemed to take the project very seriously, wanting to give it their all. I didn't realize how grueling a film shoot could be either. All I had to do while there was chat with visitors or occasionally drive beautiful and talented people to their next location. For me the set visit was one big vacation, but it was still exhausting because the hours are so extremely long. I have a newfound respect for the sheer amount of effort and determination that goes into creating a movie. Considering this, I could understand people slacking off or not making much of an effort, but that never seemed to be the case. Everyone involved wants this project to be a success. In my mind that's the most crucial factor, so if I had to guess, I think the Something Like Summer movie is going to be pretty damn cool. I'm certainly very excited to see the final product!
Is your head exploding or what? Seriously. Your book is a movie!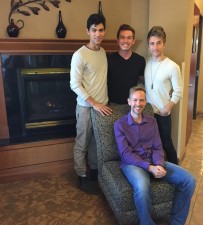 I honestly can't express what an emotional experience it was seeing the story brought to life in this way. Often I would stand at a distance, suspend my disbelief, and convince myself that I was witnessing Ben and Tim meeting again in college, or that I had somehow stumbled upon Ben and Jace's wedding while strolling through the park. Much of my time was spent holding back tears, because it was pure magic seeing what often appeared to be the real Ben, Tim, and Jace interact. The actors were supremely patient about me staring slack-jawed at them. Or maybe they're just used to it, considering how pretty all of them are.
Shut up and tell me when this thing is finally getting released!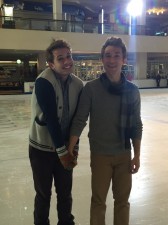 Ah. Well there might be a scene or two left to film requiring special circumstances. That needs to be taken care of first. Post production will follow, which is a crucial step. I'm sure you've noticed how raw the deleted scenes of movies appear. That demonstrates how much work needs to be done even after the cast and crew has gone home. Once the movie is presentable, it will go to film festivals where it will hopefully win lots of accolades and attract the best possible distributor. That's important, because this movie isn't just for us. It's also for the millions of people out there who have no clue about Benjamin Bentley's life. The poor bastards! Once all of that is out of the way, you and I can buy tickets to select screenings, have viewing parties in our home, or just sit alone on the couch with a tub of ice cream and a box of Kleenex, so no one can see us cry. So the answer to that question is that we need to be patient a little while longer. Obviously the movie isn't coming out this year. I don't know exactly when it will get released. I don't think anyone does. There is still much work to be done!
In the meantime, I'll keep the stories about these characters going. I have another book due out before the end of the year, and there are two more audio releases as well. As always, I'm writing more more more, and I hope that makes the wait a little easier. We've made it past the hardest part though, so for now, just kick back with a good book and let other people continue to toil on your behalf. Soon enough, we'll be able to enjoy the fruit of their labors. Just for the record though, I can't wait either! Hurry up, world! I wanna see this movie! I leave you with my favorite of the Snapchat videos that were posted during filming. In a way, it's a miniature version of the movie!