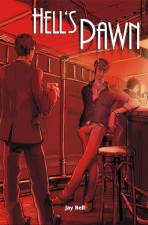 John Grey is dead… and that's just the beginning.
Purgatory should have been a safe haven for souls that belong neither in Heaven nor Hell, but instead John finds himself in a corrupt prison, one bereft of freedom or pleasure. Along with his decedent friend Dante, John makes a brave escape, only to fall straight down to Hell and into the arms of Rimmon, a handsome incubus. John is soon recruited as Hell's ambassador, visiting the afterlife realms of other cultures to enlist an army strong enough to stand against Heaven. As interesting as his new job is, John's mind keeps returning to Purgatory and the souls still trapped there. Somehow John must stop a war he doesn't believe in and liberate Purgatory, all while desperately trying to attract the attention of an incubus whose heart belongs to another.
The Premise:
We live, we die, and then what? There has to be more to the afterlife than lounging around on clouds all day or roasting marshmallows in a fiery pit. Without physical limitations, anything could be possible in the spirit world, which would make existence there awfully exciting. In fact, the afterlife sounds like the ideal place for an adventure…or to fall in love.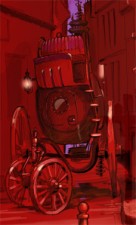 Hell's Pawn takes place entirely in the afterlife, but this means more than just Heaven or Hell. The ancient Egyptians had their own concept of where they went after death, as did the wild Celtic tribes and many others. What if all these places existed as neighboring realms? The main character of Hell's Pawn, John Grey, has a chance to find out. Of course it wouldn't be fun for us if he was simply playing tourist, so John finds himself in the stirrings of a war. The other afterlife realms are suspicious of Hell (go figure) so anywhere John travels, he finds himself in jeopardy while trying to coax old gods into joining his cause. Luckily he's not alone. With him is Dante, an Irishman more devious than he is cunning; Bolo, his faithful dog; and last but not least Rimmon, a jaw-droppingly handsome demon who can't decide between seducing John or pushing him away. It's a wild ride from the get-go, and it only becomes wilder as John gets caught up in a game he barely understands.
Reviews:
From Well Read:
"—a very enjoyable rollicking ride of a book. There's a great mix of action, pathos, humour, love and camaraderie, all set in a unique series of worlds which are imaginatively described. Those readers who like fantasy books and are looking for something a bit different will enjoy Hell's Pawn. I did and I shall be eagerly anticipating further books by Jay Bell in the future." …read full review
From Young Adult M/M Reviews:
"Jay Bell continues to surprise with his literary prowess.
Hell's Pawn is an incredible work of fantasy fiction. A roller coaster of a ride that dives head first into mythology and religion in its many guises and forms." …read full review
From Forbes.com:
"—I couldn't put it down. Jay Bell has drafted a interesting, page-turning book that tours not only the traditional afterlife, but also the afterlives of many different religions–" …read full review
Awards: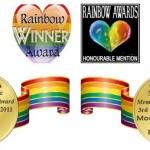 Winner of two awards in Goodread's M/M Romance Member's Choice Awards:
–Best World Created
–Most Surprising/Unique Plot Device
Winner of Best Gay Fantasy in the Rainbow Awards, and honorable mention as Best Gay Novel of 2011.



News and updates:
Curious about the latest news and insights involving Hell's Pawn? Check out these related blog posts!