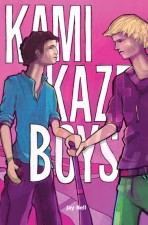 If the world is against you, don't give up. Find yourself a kindred spirit. Then you can start fighting back.
They say Connor, the one with the crazy eyes and creepy scar, tried to kill his old man. Lately he's been seen hanging out with David, the gay guy who always eats lunch alone. They make an odd pair, the loser and the psychopath, and bad things happen to people who mess with them. Not that Connor and David are looking for trouble. Even when taking on the world, they seem more interested in each other than fighting.
Kamikaze Boys is a story about breaking the chains that bind you and using them to beat down anyone that gets in your way. Better yet, it's about holding hands with the guy you love while doing so.
The Premise:
I once said that happy couples are boring—that only dysfunctional relationships make for entertaining reading. Since making that claim, I kept wondering if I was right or not. With Kamikaze Boys, I decided to find out. David and Connor are an awesome team. They're loyal to a fault, and that's where the story comes in. It's the world around this couple that's the problem, and when somebody or something threatens the person you love, you react. Naturally this leads to all sorts of trouble, which gives us our conflict and makes for one hell of a story.
There's a scene in Something Like Summer when Ben and Tim react to censorship by trashing the high school journalism room together. Ben refers to this as a Bonnie and Clyde moment. I wanted that theme to be the center of Kamikaze Boys. Even though the destructive behavior of youth baffles most adults, young people often have a reason for their kamikaze decisions. Connor and David certainly do, and I hope as you read, you feel inspired to raise hell along with them.
Reviews:
From Rainbow Book Reviews:
"[David and Connor] are a winning combination; whatever life throws at them, they will handle it together. As usual with Jay's stories, it's well written with lighthearted humor in some parts, and heartbreaking reality in others, and always with a depth of feeling which is tangible." …read full review
From Reviews by JesseWave:
"Both David and Connor are very believable, very flawed but still likeable characters, and I really enjoyed their interactions. … To put it simply, the writer totally sold me on their love and on the idea that they may have a future." …read full review
From My Particular Utterance:
"Bell aptly filters out sensationalism and the prosaic and we're left with authentic, unique interpretations of the popular middle-American culture. Now, I'm swept up in the lives of these kids, recalling the days of my own youth and how difficult it was for me growing up gay." …read full review
Awards: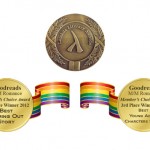 Winner of a Lambda Literary Award in the category of Gay Romance
Winner of two awards in Goodread's M/M Romance Member's Choice Awards:
–Best Coming Out Story
–Best Young Adult Characters

News and updates:
Curious about the latest news and insights involving Kamikaze Boys? Check out these related blog posts!