The Loka Legends is a fantasy series with themes of gay romance. The series currently consists of two full-length novels which are illustrated, and two short stories. There's also a collection of concept art and rough sketches to compliment the series. Below is the recommended reading order:
When Dylan last saw his childhood friend, Rano had been pudgy, spoiled, and short tempered. While his personality might not have changed much, Rano's body certainly has. Gone are the chubby cheeks and baby fat, replaced by scruff on the proud chin and an impressive physique. Rano is looking for adventure, and Dylan is willing to do anything in his power to impress him, no matter how much trouble they get into. But what Dylan doesn't realize is that his heart might be at risk. In the quest to find fire, sometimes we end up getting burned.
To set out into the world, to be surrounded by the unknown and become a stranger. Only then would he be free to reinvent himself. Or fall in love.
Dylan wanted one last adventure before the burden of adulthood was thrust upon him. And to confront the man he hadn't spoken to since their intimate night together. Stealing a boat with his faithful companion Kio, their journey is cut short when they witness a brutal murder. A killer is loose in the Five Lands and attacking the most powerful families. Dylan—a potential target—seeks sanctuary from an unpredictable bodyguard named Tyjinn. Together they decide to turn the tables by hunting the killer down. Along the way, everything Dylan thought he knew about himself will be challenged, but if he survives, he stands to win the love he never dreamed possible.
Learn more about The Cat in the Cradle

Deep in the heart of the Wildlands, in a village surrounded by beasts and dark gods, lies a little tavern. Here Nikolai makes his home and his livelihood, renowned by his customers as a kind soul and a handsome face. A shame then that he doesn't have anyone at his side. This all changes the night a mysterious woman comes in from the night, one in desperate need of help. Nikolai willingly becomes her champion, but in the Wildlands, nothing is what it seems. Inside or out, flesh and blood can be deceptive, and even the kindest heart can lose itself to the beast within.
Learn more about Flesh and Blood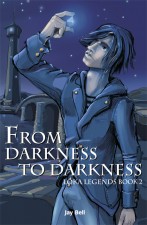 4. From Darkness to Darkness –
From the cradle to the grave…
The Black Oligarch is dead. Some call his replacement a boy, others call him a threat. Cole lost everything the night he became Oligarch: his family, his home… even Jonah. Now he's alone, left only with painful memories and the power to destroy the Five Lands.
When Dylan is sent to help Cole, he finds they have more in common than expected. They hope to build a new life together, but dark forces have other plans for them. The dead are rising, bringing secrets from the past that threaten to change their lives forever. Can Dylan guide a young man through the darkness and protect those he loves without making the ultimate sacrifice?