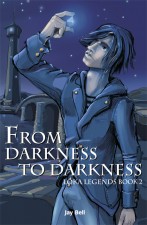 From the cradle to the grave…
The Black Oligarch is dead. Some call his replacement a boy, others call him a threat. Cole lost everything the night he became Oligarch: his family, his home… even Jonah. Now he's alone, left only with painful memories and the power to destroy the Five Lands.
When Dylan is sent to help Cole, he finds they have more in common than expected. They hope to build a new life together, but dark forces have other plans for them. The dead are rising, bringing secrets from the past that threaten to change their lives forever. Can Dylan guide a young man through the darkness and protect those he loves without making the ultimate sacrifice?
From Darkness to Darkness, book two of the Loka Legends series, features new illustrations by Andreas Bell, the author's husband.
The Illustrations: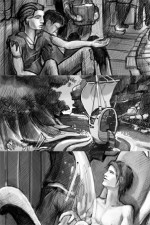 From Darkness to Darkness features six full-page illustrations that compliment the story. A new map is also included which reveals the southern portion of The Five Lands. The map of the northern portion can be found inside The Cat in the Cradle. The illustrations were created by Andreas Bell, who also provided the stunning cover art.
Reviews:
From The Armchair Reader:
"Fans of the first book will definitely want to read this sequel and will be pleased. It is a little grown up in all ways — the author has grown, the characters are wiser after all they've gone through, and Cole is darker than any character we've met so far." …read full review
From Well Read:
"Overall, this was a complex and tightly written YA fantasy with characters who grabbed me from the first page. The world building continues to develop, with a vivid and memorable setting interwoven with the lives of the characters." …read full review
News and updates:
Curious about the latest news and insights into The Loka Legends Series? Check out these related blog posts!