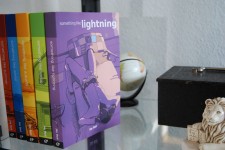 Book Five of the Something Like… saga is here! Or should we say Book One of the Storms series? Although really, this new release is Book Two of a story that has already begun. Ugh. Give me a moment to collect my thoughts and I'll try to explain.
Okay. I think we can all agree that Something Like Spring brought Ben and Tim's story to a close. I'm not saying we'll never-ever see them again, but for now, they're off stage enjoying a life free from drama. So Spring was definitely an ending to a series. And yet, it also introduced us to Jason, William, and of course Kelly, who stars in Something Like Lightning. This means we'll see a few familiar events through his eyes, so there are undeniable ties between Spring and Lightning. Without giving anything away, even the next book, Thunder, has important connections to Spring. So are we actually looking at a trilogy here, one that already began with Spring? Or perhaps we should cheat and consider Spring a sort of Book Zero. A finale to one series and a prequel to another. I'm not sure if that has ever been done before, namely because other authors are probably better at planning ahead than I am. But hey, the fun of this series has always been hopping into different heads and seeing where that leads us. Maybe there is no true reading order. Maybe, like real life, it's just a bunch of life stories all tangled up with each other. With that thought in mind, I'm pleased to announce that Book Whatever is officially here. I know we didn't get the best impression of Kelly the first time around, but I sure enjoyed getting to know him. I hope you'll have fun with him too, and if not, there's a rumble of thunder in the distance. We'll soon be moving on, because this storm is just getting started!
You can find Something Like Lightning at all sorts of places including Amazon, iTunes, Barnes & Noble, Google Play, and Smashwords. If you're strapped for cash, the first four chapters are up on the product page. Thank you as always for allowing me to share these strories with you. Happy reading!