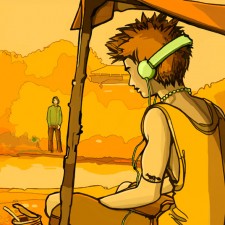 Tongues and ears. That's the news of the day. The tongue part is pretty exciting, because Something Like Summer can now be read in German and French, in addition to the English and Italian versions already out there. I've set up a new page on my site right here where you can see the different options and accompanying cover art. The Italian version is available as an eBook, which is new, so if you passed it up in the name of saving the rainforests, you can now experience the story guilt-free. Please help spread the word about these foreign editions, because I'd love to see the other books in the series translated. That way the entire story can be told.
If your ears are in need of a treat, the audiobook of Something Like Autumn is hot off the turntable! As you can imagine, the narrator had a difficult task ahead of him when starting work on this one. Even printed in black and white, it's an emotional story, and I hoped that would be conveyed in audio as well. Not surprisingly, Kevin R. Free rose to the challenge. All those crucial moments are performed with class and finesse. You'll find a sample below, but I'm betting if you've heard the other two audios in the series, you won't need much convincing. Er… I'm boasting about the narrator's skill. Not my own. I'm not that full of myself. The audiobook of Something Like Autumn can be found at Audible, Amazon
, and iTunes.
Next up, Something Like Lightning! We're entering the final stretch, so you probably won't hear much from me until the big day arrives. Until then, be good to each other!