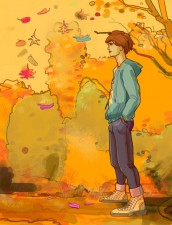 The Seasons series isn't over! I've always been amused by the idea of writing a story to represent fall. Sure, we've already tackled autumn, but I kept this loophole in mind, figuring Something Like Fall could be a special story and not a full-fledged book. That time has come. As many of you have already heard, we're trying to raise funds for the Something Like Summer movie. Private investors are doing what they can, but we definitely don't have a huge movie studio backing us up with their millions. If we want this movie to be the best it can be, all of us need to chip in. No one is looking for a handout though. There are many rewards to be had, and Something Like Fall could be one of them. The movie producers are hoping to raise $100,000. To help inch us closer, the new story is being offered as a stretch goal. If we can reach $25,000 (We're already halfway there!) I will write Fall, and everyone who contributes—no matter the amount—will receive an eBook version. The shocking twist? Something Like Fall will be excusive to this campaign. If you want to read the new story—which will include fresh cover art by Andreas—this is the only way. Contributing gets you lots of other cool stuff too. More on that later. Let's talk about Benjamin Bentley.
Ben is arguably the most important character in the entire series, which makes it weird that his book is the thinnest. Fall, written from his point of view, will help correct that. Just the idea of getting to revisit him makes me want to cry tears of joy. That's how much I miss Ben. Do you miss him? What about the other guys? Yeah, me too, so let's do this! I recorded a few videos talking about all the different perks and contribution levels. One is short and sweet. The other long and meandering, which is more my natural style. You'll find both videos below, and under that, more information about Something Like Fall. When you're done soaking it all up, please click this link to visit the Indiegogo page. If you can't afford to contribute, or even if you can, please help spread the word about this campaign. I'll be pouring my heart into the new story, and I want as many people to read it as possible. Thank you in advance!
Perks! The long version:

Perks! The shorter version:

Something Like Fall PAQ (Probably Asked Questions)
Q. How long will the new story be?
A. As long as it needs to be. I never fluff up my stories with content I don't feel is important, but let's face it, my more recent books are a little on the chubby side. I'm calling it a short story for now. If it needs to be a novella, I won't resist the urge. For right now I'm calling it a short story.
Q. When is it going to be set? After the events of Spring? Before the start of Summer? When when when?!?
A. I have a handful of ideas I like at the moment. I might choose one of them. I might use all of them. So basically, I can't answer that right now.
Q. Is [Jace/Tim/Jason/Samson/etc.] going to be in it?
A. See the above answer.
Q. I prefer good ol' tree-killing paper. Isn't there some way of getting this story in print?
A. Here's the deal: The stand-alone eBook version of this story is exclusive to this campaign. Someday I might choose to include Something Like Fall in a compilation of short stories or in a special anniversary edition of Something Like Summer. I honestly don't have plans to do either anytime soon. The next anniversary for Summer is in 2016. What's more likely is a special edition in 2021, which will mark ten years. If there are any trees left by then, such a thing will come out in print. So yeah, if you're crazily patient, you'll find another way to read this story. I'm hoping you'll choose to support the movie campaign anyway, because I really want to see Ben and Tim kiss.
Q. When will Something Like Fall be released?
A. The summer of 2015 at the latest. That should give me enough time to finish work on Thunder so I can turn my full focus on Fall and give it the attention it deserves.
Q. If you want lots of people to read the new story, why are you making it exclusive? Can't you put it up for sale after the fundraising campaign is over?
A. I could, but I'm the sort of guy who often intends to support stuff like this. Then I'll get distracted by a hot guy walking by (usually Andreas), making me forget what I was going to do until it's too late. But if I heard I needed to act quickly or I'd never see an exclusive episode of Doctor Who or whatever, I'd gnaw off my own foot rather than miss the opportunity. So yeah, I'm trying to motivate you. Is it devious? Probably. Will I make it worth your while? Oh hell yes! It's worth noting that none of the funds raised will be given to me to write Fall. I'm freely donating my time to this because, like I said, Ben and Tim. Kissing. I gotta see it.
To check out the other perks you'll get for contributing, please visit the Indiegogo page.