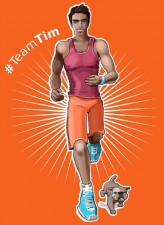 That I have a fondness for Tim Wyman is no secret. I fell in love with him through Ben's eyes, then saw the world through his own. So far, that experience has been incomparable. The intent of this series was to create art for characters who haven't been illustrated much. Despite that, I couldn't resist including Tim once more, even though he's already been drawn three times already. Four if you count the back of Winter's original cover. So yeah. I love me some Tim!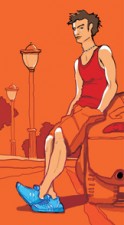 For this card, we played with the idea of showing Tim paint, since that's his thing more than jogging. But I couldn't resist seeing him all hot and sweaty as he gives his body a workout. Of course he couldn't do so without his trademark blue shoes. The orange shorts and red shirt might give you pause until you realize they pay tribute to the cover of Something Like Summer. Clever man, my husband! And let's not overlook Chinchilla who is running behind her dad. Isn't she adorable? Bulldogs are not the kind of animal one goes jogging with, but there's a line in an upcoming story which will explain that. So basically it's canon. Hee!
That brings the first series of art cards to a close. Almost! There's still the special sixth card, and the rockin' packaging these come in. I'll talk more about those tomorrow when a bunch of new stuff in our Red Bubble store goes on sale.