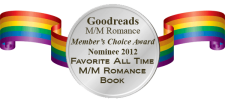 I need your vote! But before we get to that, I'm having big ol' sale. From now until January 2nd of next year, all my books will be priced at a meager $2.99. Why? I know this time of year can be expensive, so I hope to help folks out that way. I'm also aware that many of you will be getting eBook readers for the holidays, and as a big believer in digital media, I want to make your introduction to this brave new world as cheap as possible. Or maybe the lower prices will help you pimp me to your friends and family. Or make it more tempting to try out some of my weirder stuff, like Hell's Pawn. So there are lots and lots of reasons, but the bottom line is two weeks of cheap.
In other news, Something Like Winter and Kamikaze Boys have been nominated for various awards. Want them to win? The power is yours! The M/M Romance Group is having their Members Choice Awards, and you can weigh in on all sorts of books by voting right here (voting is now closed). It's a long list, but you don't have to choose an answer for every category, which is good if you don't read BDSM or books about cowboys. Or books about BDSM cowboys. The categories my books have been nominated in are:
Best cover:
Something Like Winter (I wanna win this one for Andreas!)
Best Couple:
Ben and Tim – Something Like Winter
Funniest/Best Quote:
Something Like Winter
Best Contemporary Novel:
Something Like Winter
Best Book of the Year:
Kamikaze Boys
Best Coming Out Story:
Kamikaze Boys
Best Book Featuring Young Adult Characters:
Kamikaze Boys
Finally, if you're wondering about the aforementioned new book news, I'll be making a full announcement on January 2nd, so check back here for details. You guys are going to be so pumped! But I can't leave you hanging right? So here's a completely random image that isn't a hint at all.