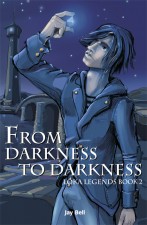 What's the opposite of a delay? Whatever it is, that's what going on. From Darkness to Darkness is out the gate and running for the hills. There's no stopping it now! This is my first sequel, which is sort of a weird feeling. Usually my books sink or swim on their own merits, but this one has to politely wait in line while people judge the first book. The Cat in the Cradle was the first novel I ever published. I'd like to think I've grown as a writer since then, so if you enjoyed that book even in the slightest, please give From Darkness to Darkness a nibble. I think you'll enjoy the taste. If you're nervous about the Loka Legends series in general, you can always give Finding Fire a quick read first.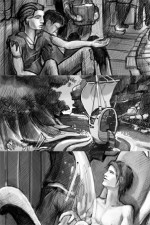 For those returning to the series, there has been one change in regard to the illustrations. Before, Andreas cranked out one drawing for each chapter, but the idea of him having to create twenty-seven more for this book seemed cruel. I also felt that there wasn't always a suitable idea for each chapter, which is why the first book has a drawing of melons in it. It's a lovely drawing, but hardly exciting. So we limited it to one image every fifty pages or so. The good news is that the illustrations are now full page and thus a lot more glorious. Aside from that, it's business as usual for Dylan and his friends; Danger, romance, and hopefully a little bit of fun when they aren't running for their lives. I hope you guys enjoy. You can start reading the first four chapters here, buying options are on the left, and the blurb is directly below. Now reread that last sentence and picture me gesturing at things like a stewardess.
From the cradle to the grave…

The Black Oligarch is dead. Some call his replacement a boy, others call him a threat. Cole lost everything the night he became Oligarch: his family, his home… even Jonah. Now he's alone, left only with painful memories and the power to destroy the Five Lands.

When Dylan is sent to help Cole, he finds they have more in common than expected. They hope to build a new life together, but dark forces have other plans for them. The dead are rising, bringing secrets from the past that threaten to change their lives forever. Can Dylan guide a young man through the darkness and protect those he loves without making the ultimate sacrifice?
As always, be sure to let me know what you think of the new story. Something Like Winter is up next. When? Soon, I hope. I better get to work!