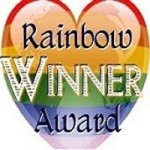 I love rainbows, and I love getting awards, so it's no wonder that I love the Rainbow Awards! This year even more so than usual, because two of my books won! But first, some background information, since you may be wondering what the Rainbow Awards are all about. Some years back, Elisa Rolle decided to create a new literary award contest with the aim of being as inclusive as possible. Straight people writing gay fiction? No problem. Self published? That's cool! Only have an eBook and not one in print? Come on by! The books entered are read by volunteer judges, which anyone can become, and the best cover art is voted for by the public. This gives the Rainbow Awards a strong sense of community, something very in the spirit of Elisa's blog. Her site functions year round as a platform supporting gay fiction, authors of all creeds, and artists past and present.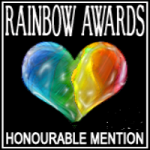 Considering this, you can understand why I feel so proud to be recognized on that site. For once, Something Like Summer wasn't the star performer. Hell's Pawn won a Rainbow Award for Best Gay Fantasy and also won an Honorable Mention in the Best Gay Novel category. Of course the most popular kid in school didn't go completely unnoticed. Something Like Summer scored an Honorable Mention in the Best 2011 LGBT Cover contest. My lovely husband has much to be proud of. His art was up against hundreds and hundreds (and hundreds!) of covers, with some really stunning work on display this year.
The biggest winner in the Rainbow Awards is the reader, since it's not just the top sellers that are gaining recognition. A lot of overlooked books rise to the top through this contest, which means we can look over the list of winners and runners-up on Elisa's site and discover great new books to read. But first, I'm off to buy some champagne!