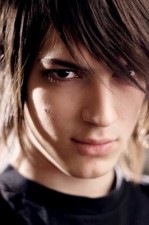 When I wrote The Cat in the Cradle way back in 1863, there wasn't a lot of music and images that inspired me as I worked. I suppose my fascination with the color spectrum was a definite influence, and I know my lifelong love of Pier's Anthony's Apprentice Adept series was a definite inspiration. Aside from that, the process was much different than with my later books. With From Darkness to Darkness, I started out with an image of Cole, as you can see on the left. A little bit emo and a lot a bit hot, having a photo like this was very inspiring for the character's mood and demeanor. I don't know the model's name, unfortunately, but having a starting point for one of the main characters was very helpful.
Music is always a huge influence when I write. I can't stand having it on while I'm working, but I'll often play different songs beforehand to get in the right mood. This time, Alphaville's Inside Out had the right vibe. The lyrics seem to be about a relationship that took a wrong turn, perhaps due to a twist of fate.
"And always I think where we might have gone, if we'd never met inside this song."
That's very suiting to the events of the plot, since both Cole and Dylan spend some time pondering what could have been. Naturally this song is also where I took the book's title. I had this track and another called New Horizons playing on frequent rotation while working on this story. I obsessively hammered out the first draft in under a month, which I believe remains the fastest I've written any book. Something about writing fantasy leaves me exhausted, but I hope a similar fever overtakes me someday for a third installment.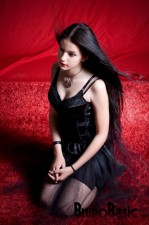 Getting back to pretty pretty faces, I also had model inspiration for Natasha. She doesn't have a large part in The Cat in the Cradle, but I enjoyed writing her enough that I wanted to give Natasha a bigger role in From Darkness to Darkness. Probably the biggest downside to writing gay romance is the main protagonist always being male. I suppose there are some creative ways around this, and I should probably take advantage of them. I've been blessed to have numerous strong and talented females in my life, and I'm always channeling them when I write characters like Natasha. She might appear timid or insecure at first glance, but she knows who she is, and by the end of the novel, I pity anyone that stands in her way.
The Loka Legends series feels a little bit like a pet project to me. My contemporary romances might occasionally draw on autobiographical events, but this fantasy series is like a letter to my younger self. He grew up devouring such books, and in a way I'm doing my best to entertain him. "Hey, check out these crazy magical powers and the talking cat! By the way, it's okay to be gay and people like you can find love and have a meaningful relationship. Oh, and be sure to check out the illustrations. You'll never guess who drew them all!" Until I get my time machine up and running, I can't be sure if angsty younger Jay would appreciate my efforts or not, but hopefully these stories speak to the hearts of many people, no matter how young or old they might be.