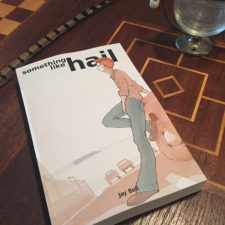 Something Like Hail is out today. The latest installment of the Something Like… series features a new character, Noah Westwood, who is down on his luck and living on the streets. His fortunes improve when he seeks out Marcello Maltese for an opportunity, but he has a long journey ahead if he's going to find happiness. And love. Sound good? If so, you can treat yourself to the paperback here, or get the eBook version from Amazon, iTunes, Google Play, Barnes & Noble, and Smashwords.
While doing so, you may notice that Something Like Hail is listed as book #8. How can that be when this is the tenth release? Well, after giving it much thought, I've decided to change the recommended reading order of the series. Why? Let me show you the new order, and then I'll break it down for you.
The Something Like… series:
#1: Something Like Summer
#2: Something Like Autumn
#3: Something Like Winter
#4: Something Like Spring
#5: Something Like Lightning
#6: Something Like Thunder
#7: Something Like Stories – Volume One
#8: Something Like Hail
#9: Something Like Rain
#10: Something Like Stories – Volume Two
#11 Something Like Forever
—Autumn is now the second book. This makes it less confusing for new readers, who expect to read the seasons in their natural order, starting with Summer. It also gives readers a break from Ben and Tim's story before they revisit those events in Winter. The epilogue in Winter also ties in nicely with Spring, since we see Ben and Tim move into their first house together, which of course is where Jason finds them.
—Rain has been pushed back in the series. This gives readers a two-book break from the Kelly/Jason/William love triangle. It also moves the end of Rain closer to the follow-up story in Something Like Stories 2, which flows nicely into the final book, Forever. When the final installment of the series is out, I think you'll see what a nice trilogy those three books make when grouped together.
That's about it! If you don't like the new order, I totally get where you're coming from. I tend to read in publishing order myself, and you are welcome to continue doing so. For newcomers to the series, I truly believe this order will provide them with a smoother and more enjoyable experience.