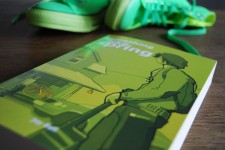 Can you smell the freshly-bloomed flowers? Feel the sun warming your cheeks? Well you should, because Something Like Spring has arrived! I could give you guys a big sales pitch, but really, if you're here and have read the other three books, hopefully you don't need any convincing. Those that do can check out the product page for a little more info and some sample chapters. Otherwise, you can grab the paperback
or the Kindle version
from Amazon. And of course it's also available for the Nook or iBooks or anything else. As always, head on back here when you've finished and tell me what you thought. Or better yet, tell the whole world by leaving a review somewhere.
To celebrate all four books being out, Andreas has come up with a couple new goodies. One is a big ol' poster featuring the cover art in seasonal order. We've got one of these hanging on our wall in the office and the colors are wonderfully vibrant. There's also a new T-shirt with a quote that should be familiar to you all. What better way to show the world you're a proud mariposa, or to get guys to call you a beautiful butterfly? All this and more can be picked up from our RedBubble store. I also show off the new shirt and the poster in the video below.
Happy reading everyone. Thank you for your continued support! As soon as I'm done typing this sentence, I'm going to close my eyes and pretend I'm making out with each and every one of you!