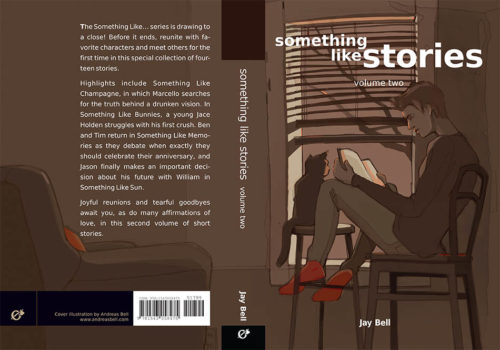 It feels like ages since I released a new book, so I'm very pleased to present you with a nice thick volume of short stories. This one has something for everyone. If you're hoping to spend time with your favorite characters, chances are they either have their own story in this collection or appear in a supporting role. If you're hoping to meet someone new, we've got a few character debuts as well! I know some of you were frustrated with my previous release, Something Like Rain, mostly because it's time for the plot to move on. I agree! Only three books remain in the series, and Something Like Stories: Volume Two is one of them. It includes funny stories, sad stories, romantic stories, and even one that is kind of scary. If this book doesn't restore your faith in me, then it's time for us to go our separate ways. I hope not though, because the next release is great, and the grand finale… Just you wait! Curious to know what exactly is included in this book? I'll break it down below, but for those who prefer going in blind, you can order the paperback here, or get eBook versions from Amazon, iTunes, Google Play, Barnes & Noble, and Smashwords. I hope you enjoy!
Something Like Stories: Volume Two includes:
Something Like Infinity – When Ross Langdon, a high school Spanish teacher, is asked by a police officer to help catch an arsonist, he decides that Ben and Tim are the most likely culprits.
Something Like Turkey – Ben wants to give Tim and Jason the best Thanksgiving possible, but he's never been the best cook, and that's not likely to change.
Something Like Ornaments – It's Ben and Tim's first Christmas together since reuniting at the gallery, but the holiday spirit is endangered by a ghost from the past.
Something Like Champagne – Marcello enlists Tim to help him decipher a drunken memory, which sends them to a familiar place from their past.
Something Like Hearts – Kelly and Nathaniel have returned to Austin, but one of them is unsure of where he fits in.
Something Like Shamrocks – Layne Jenkins has never been lucky in love, despite attending every meeting of the gay youth group. A high-stakes bet soon has him pressured to change his fortune.
Something Like Bunnies – A young Jace Holden struggles with coming to terms with his sexuality thanks to a hunky foreign exchange student.
Something Like Flowers – Mother's Day sends Jason on a quest to find out what happened to his mom.
Something Like Memories – Ben and Tim can't agree on which day their anniversary should be, so one of them sets out to answer the question once and for all.
Something Like Sparks – Harold Franklin enjoys working for Marcello as an escort, but he decides that it might be time to settle down in the name of love.
Something Like Sun – Jason finally makes a difficult decision about his future with William.
Something Like Cake – Caesar Hubbard has broken more hearts than he can count, including his own. Wanting to change his ways, he seeks advice and receives it from an unexpected source.
Something Like Braaaains – Tim finds himself in a living nightmare on the scariest evening of the year.
Something Like Samson – The life of a cat may seem simple and easy, but this isn't always the case!