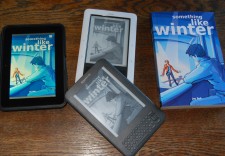 This is it! This is the book you've all been waiting for! … Actually, I suspect if you guys tied me to a bed Misery style and forced me to write a book, it would probably be about Ben and Tim's future. That's okay. I have my reasons for not doing so, and I hope when you read Something Like Winter, you'll understand them better. And it really is quite the tale. The high school years will feel like a nice flashback to Something Like Summer, but when you hit those college years—watch out! By the end of the book, I hope you'll agree that this was a fun way to revisit Ben and Tim's lives. As I've said elsewhere, a good sequel should be more of the same and yet different, and I feel Something Like Winter really delivers in that area.
But hey, don't take my word for it. Something Like Winter is out, and just begging to be bought and devoured. Be sure to bring a glass of water with you, because at 130,000 words long, this bad boy is a lot to swallow! Hopefully it will keep you guys busy while I get started on my next release. As usual, eBook versions are cheapest and available across the spectrum. The bar to the left has all the buying options. iTunes (update! iTunes version is now out!) always takes longer to get my books, but you can use the Kindle or Nook app on any Apple device in the meantime, or pick up Apple compatible formats from Smashwords. The paperback price is higher this time around because of the page count. Despite the price hike, I don't earn more than I do on any of my other books. For those short on cash right now, or dubious about this whole scheme, there are five free chapters on the product page here.
When I first wrote Something Like Summer, I had no idea that the story would resonate with so many of you. Now, with this second book, I'm in the same position. I'm clueless as to what most of you will think. All I can say is that while writing Something Like Winter, I fell in love with Ben, Tim, and Jace all over again. Having to say goodbye to them one more time is almost unbearable. Eh, don't worry about sad old me. You guys are just beginning the journey. Go on then! Off you go!