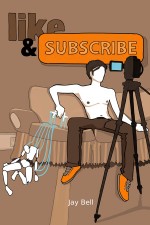 The quick version: Spring isn't ready, I have something to tide you over, and I need your vote. The long version: Hey everyone! I have a brand new short story for you to read. Before we get to that, I should answer the question many of you are thinking. When is Something Like Spring getting released? The good news is that the book is super close to being ready. Frustratingly so, since with the looming holidays, it's not going to make it out before the end of the year. So early next year, hopefully early early next year. Worse case scenario is the end of February. No later than that. You have my word. Now then, on to my peace offering!
Like and Subscribe is a brand new short story. You haven't met the characters before, and you don't need to know anything before you dive in. The story is about one of those hot guys on YouTube. You know the type. They rarely have their shirts on, and you can't stop going back to their channel, no matter how dumb they might be. The stud in our story seems to have a good heart and is surprisingly insightful at times, but he's not the main character. The main character is Evan, who is desperate to meet this person. Again. Grab a copy of the story and you'll see what I mean. Like and Subscribe is currently available for Amazon Kindle
, Barnes & Noble Nook, Apple iBooks and all sort of other formats at Smashwords.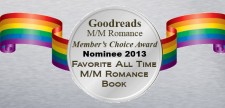 Don't leave yet! The M/M Romance group over at Goodreads is having their annual fan vote again, and Something Like Autumn has been nominated in multiple categories. This is one of the best ways you guys can express your appreciation for what I do, and encourage me to keep writing. Money and stellar reviews are nice too, but we're talking awards here! You can vote by clicking these pretty words. The categories Autumn has been nominated in are:
Favorite All Time M/M Romance Book
Best Book of the Year
Best Contemporary (genre)
Best Long Story (250 pages or 100K words)
Best Tear Jerker (themes)
Best Young Adult (genre)
Favorite All Time M/M Series [it's listed there as "Seasons"]
I've also been nominated as Favorite All Time M/M Author. Oh my gosh! Thank you to the kind souls who did the nominating. That's all from here. Much love to you guys during this holiday season!