See that right there? It's Tim Wyman's blue shoes. For real. That's how they'll look in the movie. If you followed the advice in my previous post, this is old news to you, as are the photos of Ben and Allison together, or Krista Norman hanging off of Tim's arm, or Mr. Wyman looking delicious while talking on the phone to Ben. I won't even get started on the Snap Chat videos, since it would be cruel to tell you about what is already gone. Needless to say, you should be following the Something Like Summer movie on social networking. Again, see the previous post for details. Even if you heeded my words of wisdom, you might have missed out on photos this like this: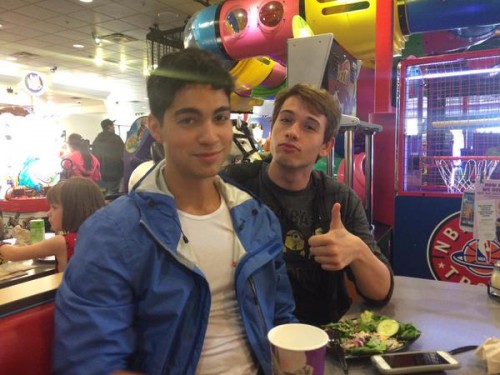 That's Davi Santos and Grant Davis on their day off. Grant took Davi to Chuck E Cheese's. Echoes of Ben and Jace in Something Like Autumn, eh? How did I come by this image? Not by stalking these poor guys wherever they go. I swear! Instead I remained in the comfort of my own home and followed them on social networking. You can too! Below you'll find more just a fraction of the people working on the movie and links to their profiles. Start clicking!
Grant Davis (Ben)
Facebook
Twitter
Instagram
YouTube
Davi Santos (Tim)
Facebook
Twitter
Instagram
YouTube
Ben Baur (Jace)
Facebook
Twitter
Instagram
YouTube (forthcoming?)
Ajiona Alexus (Allison)
Facebook
Twitter
Instagram
YouTube
JT Tepnapa (Director)
Facebook
Twitter
Instagram
YouTube
Carlos Pedraza (Script Writer/Producer)
Facebook
Twitter
Instagram
YouTube
Tom Ly (Producer)
Facebook
Twitter
Also, I have another installment of my Building a Book series ready for you, and boy do I look tired. This job isn't always easy! I get loose lipped about the name of the next Something Like… book, so if you want to know, here's your chance.