Nothing says "holidays" like getting hammered, and nothing says "beer" like Germany. That the two should be combined was inevitable. Germany isn't big on fleeting food gimmicks, but come Christmas they loosen the lederhosen and break out a variety of holiday themed products. Considering that they already make beer for dogs and champagne for children, I shouldn't have been surprised to discover Weihnachtsbier, a special beer just for Christmas time. No wonder Santa Claus visits here a day early!
Before trying it, I was sure Weihnachtsbier would taste like cinnamon, since that seems to be the local holiday flavor. Instead, Christmas beer is about percentages more than taste. While the average beer might contain between 4-5% of alcohol, Christmas beer usually clocks in at 5.5% percent and higher. The idea, I suppose, is to get just a little warmer during the cold season.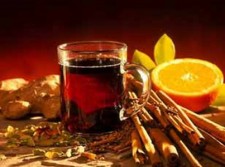 Wine has its own Christmas twist at this time of year. Glühwein, or "glow wine" because of the effect it has on your cheeks, is served in the winter months. This mulled wine is especially porpular at outdoor Christmas markets. Glühwein is made from cheap red wine enhanced with cinnamon, oranges, clover, and sugar. All of this is heated together, and is an absolute treat when strolling the market stalls in the snow. I made a video last year of our local Christmas market, which is a bit unique since it has a medieval theme as well. That adds hot honey mead and smoked beer to the list of seasonal drinks. You can see the Christmas market in part of my doofy video below.
However you celebrate the holidays, and even if you choose not to, I wish you a warm and loving time with friends and family, and the very best start possible in the new year.