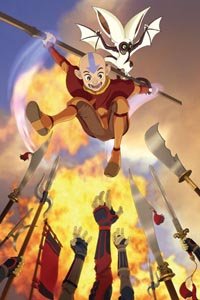 Children's cartoons are often overlooked by the adult populace. It's a shame because fiction geared toward kids is often more daring and innovative, unhindered by concerns of what the audience might accept. Avatar: the Last Airbender is a wonderful example of this, a show that manages to be adventurous and fun while still being earnest and emotional. The world of Avatar is made up of four nations; The Earth Kingdom, The Fire Nation, The Air Nomads, and The Water Tribe. Select members of each nation can magically manipulate the element of their people, an art known as bending.
The Avatar is the only person capable of bending all four elements, and acts as a sort of ambassador/policeman to the four nations, keeping them all in check and ensuring peace. The Avatar always exists, reincarnating upon his (sometimes her) death. Unexpectedly, the Avatar goes missing. In his absence the Fire Nation decimates the people of Air and Water, and the Earth Kingdom seals itself off from the rest of the world. After many years Katara of the Water Tribe and her brother Sokka find the Avatar, reincarnated as a young boy named Aang. Together they must help him master all four elements so he may defeat the Fire Lord and bring peace to the world again.
Basic premise out of the way, each episode is its own individual adventure while adding to the overall story arc. It's a smart show too. Events aren't forgotten just
because they aired last week. The show references itself often, minor characters resurfacing from time to time. As for the main characters, they grow on you and soon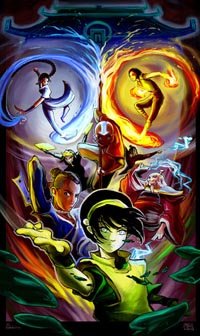 feel like friends of your own. The writing for the show is phenomenal, entertaining while tackling serious global issues. The backdrop of war torn nations was very poignant during the years the show first aired. The show is also heavily influenced by Eastern styles and philosophies.
When my book The Cat in the Cradle comes out, many readers may think it was directly inspired by Avatar. Characters in my story can manipulate the elements (ten instead of four) and some of the same issues, such as the morality of killing your enemy, are explored. I can safely say that my manuscript was already completed before I discovered this show, but I saw in Avatar a kindred spirit to my own story. Much more than just a kids cartoon, Avatar made me laugh, cry, and keep tuning in until the last brilliant episode. The show came to a graceful end after three seasons and didn't try to artificially extend itself despite its popularity. All three seasons are now available on DVD for newcomers to enjoy or for old fans to rediscover.