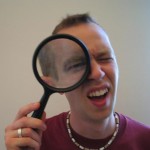 Wait, who's Arthur? Forget him! I'm the one that was interviewed!
Danielle, who was already kind enough to review my book on her site ALPHA reader, recently asked me if I'd like to answer a few questions. Any time you ask an author if they'd like to talk about their books or themselves, you can bet the answer will a resounding "YES!" This interview can currently be found on The Book Addict. Here's a small sample.
Q: 'Something Like Summer' looks at the many aspects of being young and homosexual – Ben is 'out' and proud, but still struggling with loneliness and bullying. Tim, meanwhile, is in denial and firmly closeted. What do you hope your readers take away from both Tim and Ben's approaches to their sexuality?

So many stories put readers in the driver's seat of a closeted character, reminding them of the fear and anxiety that accompanies that state. Instead of doing this, I hoped that closeted readers would enjoy being Ben for a while, to experience being free of that burden while also seeing themselves from the outside. I wanted them to become frustrated with Tim, to realize how good his life could be if he would just take that leap of faith.