The Indiegogo campaign
for the
Something Like Summer
movie has reached and surpassed twenty-five thousand dollars! $25,000! That's so amazing! Thank you to everyone who stepped up and contributed. I love you guys. For real. This means of course that
Something Like Fall
will be written, and that everyone who contributes will get a copy, even if the campaign doesn't reach the full goal of $100,000. It's important to note that Indiegogo is different than Kickstarter. Over on Kick, if you don't fully fund a project, it doesn't happen. One advantage of Indiegogo is that the money raised can still be utilized, even if it isn't the full amount. So if you're waiting to see how close we get to the finish line before you bother—as I sometimes do with Kickstarter campaigns—there's no sense in holding back now. If the producers don't get the full amount, your contribution will still be put to good use, and investors will be sought out to cover the rest. This could mean delays, or budget cuts, so if we want this movie to be the best it can be, it's crucial that we rally and do all we can.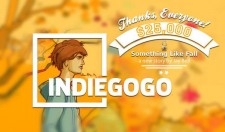 That's why I'm happy to write Something Like Fall without expecting any profit in return. None of the funds raised will be given to me for doing so. It's me chipping in, because I love these characters, and I really want to see them come to life on screen. I know how passionate you guys are about this story too, so please contribute, or share, or dig around in your grandma's purse while she's sleeping. Er, maybe not that last one. Just do what you can within the confines of the law. Contributing any amount is the only way to get Something Like Fall. Right here, baby! Considering how few people will be getting the story, even good ol' Pirate Bay probably won't be an option. So please take advantage of my willingness to work for free, chip in however you can, and let's make this happen!

I hope you'll forgive the sensational headline, but I maintain that it's accurate. Right now really is your only guaranteed chance to get the new story.