There are few things I enjoy more (sex) than revealing new cover art. Andreas always blasts his amazing talent into my book covers, and this time he's created my all-time favorite. The cover art for From Darkness to Darkness, the sequel to The Cat in the Cradle, has actually been finished since late last year. I've had many opportunities to consider this image, and I fall deeper in love with it every time. So without further ado: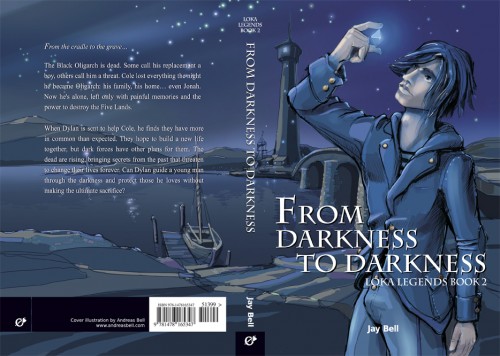 To the right we have Cole, a new character, holding aloft the magical black loka. But what is he contemplating and what does he intend to do with it? You'll have to wait a little longer to find out. Frankly, whenever this art is around, I have a hard time to do anything but stare and drool. Not in a pervy way exactly. I'm just a sucker for nighttime scenes, a swirl of stars, and—okay, I confess—a cute guy.
I'm hoping this cover will seduce a few of you into trying the first book in the Loka Legends series. The Cat in the Cradle features twenty-five illustrations by Andreas, plus a rocking purple cover and a map of The Five Lands. Best of all, for the next week, the eBook price will be a paltry 99 cents. What could be better (sex) than a book for a buck that's stuffed full of art, wondrous adventures, and a little gay romance? You'll never have a better opportunity to find out! You can pick your poison on the left-hand side of this page or learn more here. Enjoy!