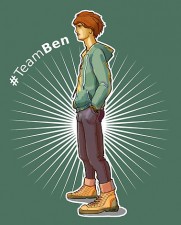 From the time I wrote my very first book, I dreamed of being able to create drawings of the characters. Words can only hint at a person's appearance. Images get a lot closer. It's always exciting for me when Andreas works on my covers, since it helps gives the characters form. Sadly, many characters never make it on the covers or aren't prominently displayed there. With that in mind. I commissioned Andreas to create a new series of images depicting five different characters from the Something Like… saga. The results are pretty damn neat. Every day for the remainder of the week, I'll be revealing one here on my blog… starting right now!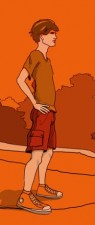 The idea for this series came from the awesome Benjamin Bentley illustration above. Andreas created this to help promote Something Like Fall, so we're counting him as the first in the series. Originally I had asked Andreas to touch up the image of Ben from the back of the Summer cover—perhaps put some leaves in his hair or something silly like that. Instead, he redrew the image from scratch. The posture is mostly the same as the one from the cover, seen to the left, which makes a nice tribute. What I especially like about this illustration is the subtle hint of warm light on the face, like Ben is staring off into a summer sunset. The image looks pretty snappy on a T-shirt and will be available as such on Sunday. For the shirts, Andreas and I thought it would be fun to go with a team theme. There's been plenty of playful declarations from people who are Team Jace or Team Tim, but why not Ben? I'm totally Team Ben. Why else would I have given him two of the greatest guys imaginable?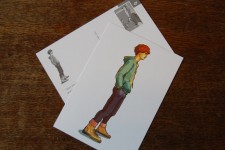 Shirts are fun, but what I'm really excited about is a nifty set of art cards that will be available soon. Technically they are post cards, but I'm calling them art cards because I can't imagine you guys mailing these to anyone. The characters are on a neutral background which really makes them pop, and the flip side features a carefully chosen quote from the related book. In addition to the five character cards, there's a special sixth card which I'll be signing. Like the new T-shirts, these will go on sale on Sunday. You can win a set of all six cards right now though. All you have to do is guess which character I'll be revealing tomorrow. Leave your answer in the comments below to qualify. One guess (one character name) per person please. I'll reply to the winner when they guess correctly, but if you weren't fast enough, we'll be playing the same game every day this week. See you tomorrow!