Looking for a good book? Sick of my sorry ass taking so long to publish the next one? Never fear! Below you'll find a number of excellent stories to entertain you. I have them divided into two categories. Books that I've read, with a link to my review on Goodreads, and books that I'm looking forward to reading. For that second category, if you have a review you'd like me to link to, let me know and I'll gladly add it. You might notice that all of these books are penned by indie authors. The reason is that traditional authors have a support network in their publisher. This page is for loners and mavericks—original voices and stories that publishers wouldn't take a chance on, much like Something Like Summer. I'm assuming if you're here, it's because you like my books. If so, they have plenty of cousins you should meet:
Books I Love
PopDaddy – Jeffrey Roach (my review)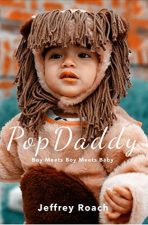 PopDaddy is a novel from Southern writer Jeffrey Roach that recounts the heartwarming and hilarious tale of how he and his partner Ken started a family in one of the unlikeliest places. The book takes place in the early 2000s, when single parent adoptions were the only way for a gay couple to adopt a baby from Guatemala and begins when the couple's best friend announces she's pregnant. Ken wants a baby too.
What follows is a whirlwind eighteen-month journey that takes them from Dallas to Guatemala and back, as they work to bring baby Jackson home to meet his big, extended family. Along the way they discover that being "out" takes on a new meaning when the duo becomes a trio and that the word family is broad enough to include them. Buy from Amazon.
The Cranberry Hush – Ben Monopoli (my review)
Vince Dandro might be going through the quietest quarter-life crisis of all time. He lives alone, works in a comic book shop, and has a crush on his coworker he can't seem to act on. Like an old comic book, his life's colors have started to fade. Everything brightens when Vince's long-lost friend Griff appears on his doorstep in the middle of a blizzard. They were roommates in college, so close back then that Griff's girlfriend called them "lifebuddies" — but Vince's love for Griff had ended the friendship, he thought, forever. They haven't spoken in years. Why has Griff shown up again? And, more importantly, can Vince handle his return?
Vince and Griff are two twentysomethings struggling to find their places in the world and in each other's lives. This is a story of friendship and love, both unrequited and requited, and of learning how to fly through the post-college void, which just might hold more than a cranberry hush. Buy from Amazon
The Painting of Porcupine City – Ben Monopoli (my review)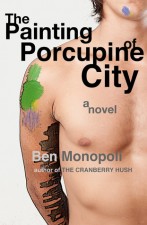 Brazilian graffiti artist Mateo Amaral is looking for his heaven spot, the one perfect place to paint. His coworker Fletcher Bradford is looking for a heaven spot of his own, and his is even more elusive. Out since age 12, Fletcher's been around more blocks than Mateo has ever painted. He's dated all the jerks, all the creeps, all the losers in between. At 26 he's decided the only way to meet a nice guy is just never to give him a chance to prove otherwise. When he's introduced to Mateo, Fletcher expects to add another notch to his bedpost. But Mateo is different–and from him Fletcher will rediscover a long-lost feeling: surprise. What Fletcher finds in the trunk of Mateo's car will change his life in ways he never imagined–and may help him find what he's always wanted.
From the author of THE CRANBERRY HUSH comes an epic story spanning years and hemispheres and miles of painted walls. At times sexy and sweet, gritty and gut-wrenching, THE PAINTING OF PORCUPINE CITY takes readers along with Mateo and Fletcher on an adventure through the subways of Boston to the towers of São Paulo. Are you in? Buy from Amazon
Homo Action Love Story – Ben Monopoli (my review)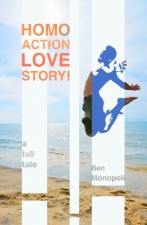 Boots McHenry and his boyfriend Ryan are young superstars in the North American Paintball League, a high-stakes sport where losers face exile — five full years of it, on an island so secret no one can be sure it even exists. After Ryan has a tragic collision with an opposing team's paintball, the rules of the game force the boyfriends apart.
Boots is shattered without Ryan, so when his best friend Clemente Santiago suggests a daring, high-seas mission to find the island and reunite the pair, Boots jumps at the chance. They assemble a crack team to join them, including fashion model and mixed-martial-arts champ Colby Kroft, hunky-but-shy sea-captain Marcus Tumble, and Piper Pernfors, the ex who's aching to make Boots forget Ryan ever existed.
HOMO ACTION LOVE STORY! is a lighthearted, sex-filled adventure from the author of THE CRANBERRY HUSH and THE PAINTING OF PORCUPINE CITY. It's a perfect storm of beautiful fishermen, murderous pirates, blossoming romances, and secrets that call almost everyone's motives into question. Land, ho! This page-turner is sure to float your boat. Buy from Amazon
The Race for Second – Chase Potter (my review)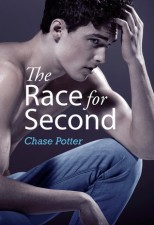 For college sophomore Ethan West, the upcoming fall semester will be the start of a year abroad in Germany that he's always dreamed of. Having broken up with his boyfriend the day before his flight, he's ready to face Europe with no attachments… and no desire for any.
But as Ethan gets to know Daniel — one of his three German roommates — his resolve starts to soften. Though Daniel is initially standoffish, unpleasant, and sometimes downright hostile, the two are undeniably drawn to one another. Even Ethan's conviction that Daniel is actually straight begins to erode as they grow closer, gradually revealing a buried part of Daniel's past that will threaten to tear them apart.
Not to be outdone, the town of Freiburg guards its own secret, a thread of forgotten history unraveling into something far greater than Ethan is prepared for.
The Race for Second is a coming of age story that delves into the depths of the young heart and its search for intimacy and acceptance. Charmingly woven into the German university town of Freiburg, Ethan's story is one of finding the courage to pursue what we truly desire, even at the risk of losing everything. Buy from Amazon
Remember My Name – Chase Potter (my review)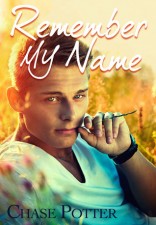 Every action can have devastating consequences. For Jackson Roanoke, the greatest consequence of his parents' divorce was watching his mother drive away with his twin brother Ben, putting thousands of miles between them.
Eight years later and with college looming, Jackson is tasked with reroofing his father's house. After a tempting offer of help from a young man, Jackson finds himself caught up in a growing attraction he's hesitant to embrace. But when his brother Ben reappears at the front door, Jackson is confronted by more than he's prepared for.
Brought together by circumstance, the estranged brothers are forced to navigate a relationship that persists only in their memories. Marked by the heat of a Midwest summer and rolling wheat fields, the short months are punctuated by scattered moments of closeness between the two brothers, hinting at the possibility of rekindling the connection they once shared. Buy from Amazon
Every Time I Think of You – Jim Provenzano (my review)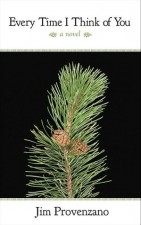 After an abrupt encounter in a small woods of Greensburg, Pennsylvania, Reid Conniff, a shy and studious high school distance runner, becomes swept up in the adventurous world of Everett Forrester, a privileged and capricious charmer. Overcoming the distance of their separate schools, parental interference, and a nearly fatal accident, the two young men find a way to be together in spite of their own doubts and fears.
Set in 1979-1980, Every Time I Think of You recalls a halcyon era in America's past with a personal voice. Buy from Amazon
Books I'm Eager to Read
The Summer of 1983 – Bill Gray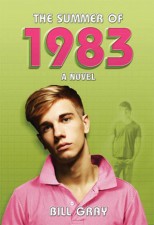 It's the summer of 1983 and 16-year-old Scott has started working his first job, in the kitchen of a posh French bistro. Scott is a good Catholic school boy who lives in a suburban bubble. That is, until he starts working at the bistro, where he meets people from different cultural and racial backgrounds who take Scott under their wings and introduce him to sex, drugs and New Wave rock 'n' roll. Scott is transformed virtually overnight, and, most important, discovers that he can't find love in the usual places a 16-year-old boy would look. Coming to terms with his budding homosexuality will take guts, and a lot of help from some gay bistro pals. "1983" is the story of one boy's coming of age and coming out at a time when being gay was not as accepted as it is today. And it's the story of friendships that turn the life of a boy named Scott upside down. Buy from Amazon
The Before Now and After Then – Peter Monn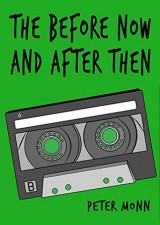 Danny Goldstein has always lived in the shadow of his identical, twin brother Sam. But when a hurricane of events forces him into the spotlight, he starts to realize that the only thing he's truly afraid of is himself. With the help of his costume changing friend Cher, a famous gay uncle with a mysterious past of his own, two aging punk rocker parents and Rusty, the boy who will become his something to live for, Danny begins to realize that the music of the heart is truly the soundtrack for living. Buy from Amazon
The Wind Your Voice, The Rain Your Tears – M.E. Sanford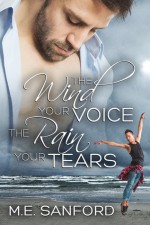 Small town mechanic Vinny Shields doesn't have much going for him. He has a girlfriend that seems to chase every man that crosses her path. His father and mother are consistently unimpressed with his lifestyle. And his younger brother just dropped a bombshell that will change the dynamic of his family.
Vinny then meets the flamboyant gas station attendant, Tristan May, and learns more about what it means to love and be loved. Buy from Amazon
Want to see a book listed here? I'm currently only accepting requests directly from self-published authors. If you're a book lover, please feel free to discuss your favorite authors and stories below. I'd love to hear your thoughts!