I love revealing cover art. When it comes to my books, I'm a pretty humble guy. I like them, but I don't really expect anyone else to. So while the big sales pitch is a necessity, I don't honestly feel like screaming: "Look! I made the best thing ever!" When it comes to Andreas's art, I feel the exact opposite. So with that in mind… *clears throat* Holy shit! Check it out! Andreas created the best thing ever!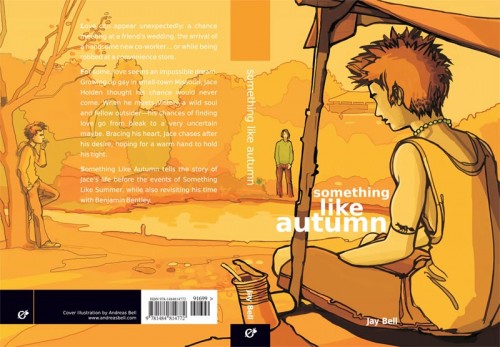 Take a moment. Ignore the text and my clumsily worded blurb on the back. Just take in the art and feel.
Are you feeling stuff? I'm feeling stuff.
Okay, now let's talk. This cover is a slight departure from the previous two. Summer and Winter were a pair. Summer has Ben looking at Tim. Winter has Tim looking at Ben. For this cover, I told Andreas he didn't need to stick to that pattern and he didn't. We have a mysterious new character in the forefront—Victor. You haven't met him yet. He's looking across the lake at the guy in the green shirt. That's Jace, and yes, he has long hair. It was the nineties. You'll have to forgive him. On what will be the back of the book, we have another look at our punky new friend as he leans up against a tree and slowly inhales cancer.
Of course once the story is released, you'll see this art in a new context, but for now let your imagination run wild. At least until May 31st when Something Like Autumn hits the virtual shelves. I hope to see you back here then!