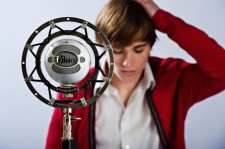 Wanna hear Ben and Tim talking? How about arguing? How about them… uh… well, you know! The Something Like Summer audiobook is here! This isn't an audio play with sound effects and a cast of actors. This is a true, unabridged reading of the book, and yet narrator Kevin R. Free lends each character such a unique voice that at times it does feel like a play. The boy can act too, so be prepared to have a good time! No need to wait. Check out a free sample of the first chapter right here:
The Something Like Summer audiobook can be bought from Amazon, Audible, or iTunes. At the moment, it's only available in digital format, so you folks still listening to shiny coasters will have to buy the files and burn them to disc. I figure the audiobook is also a great way to expose friends who don't read to Ben, Tim, and Jace's story. Or something to hold you over until the movie comes out.
Speaking of which, the producers of the Something Like Summer movie have released new publicity images. The one above is of Ben, although not the actual actor who will be staring in the movie. Casting hasn't taken place yet. These images are just to get investors interested and us excited. Check out the recreation of the cover art in this image:

Neat, huh? The movie is currently set for a 2014 release. Sounds far away, I know, but I'll try to help ease your pain by releasing Something Like Autumn on June 6th and Something Like Spring later this year. Assuming all goes according to plan, by the time you've read the complete series, the movie won't be so far away. It'll make a nice grand finale too, but let's not think about the end right now. Not when things are just starting to heat up! Instead, take a look at how the Something Like Summer movie came to be in this recent article on the Huffington Post!