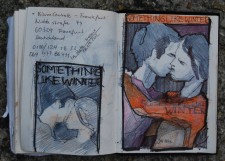 Something Like Winter will be released on November 2nd. That's just one month from now! To help prepare you for the occasion, I've prepared this spoiler free guide to everything you should know about the book before it comes out. This should tackle most of the questions I get asked, as well as a few I made up.
Q: I can't wait to learn about Ben and Tim's future! That's what the book is about, right?
A: No way! An entirely new story means new conflict, and I think Ben and Tim deserve better than that, don't you? Instead I decided to write Tim's story, and believe me, there's a lot you don't know about him. Tim goes through a tremendous amount in his years away from Ben. In addition, we also get completely new scenes of Ben and Tim's history together, both when they were younger and as adults. By the time you finish with Something Like Winter, you'll feel like you only knew half of the story before.
Q: … But I want to know what happens after Something Like Summer.
A: That's not a question, but I will say this: There are some unresolved issues at the end of the first book, and I did feel comfortable in addressing those. So this book does go beyond where Something Like Summer ends, giving you a glimpse of the future, even if it's only a small one.
Q: I guess that might be good, but aren't you just selling us the same story?
A: Something Like Winter is a whopping 127,000 words. Of those words, only about 27,000 are scenes from the first book, and even they have been rewritten completely (aside from dialog) to provide fresh perspective. Take away all the rehashed scenes, and you're still left with a book of 100,000 words of new material. Considering that Something Like Summer is 95,000 words, you're actually getting much more with this book.
Q: I can't wait to see [insert favorite scene here] from Tim's perspective.
A: You might not get to. I want Something Like Summer to remain special, so many of those favorite parts will stay exclusive to that book. There are many scenes I couldn't avoid revisiting, like the first time Ben and Tim meet, but aside from those I wanted to explore new territory. Did Ben ever tell Tim that he loves him? What was the first time at Ben's house like for Tim? I hope that I've created new scenes that will become your favorites too, and that will compliment the first book rather than replicating it.
Those are the most common inquiries I could think of, but if you have more, feel free to ask them. Naturally I won't answer anything specific about the plot, but if you have a general question about the release, ask away. I might even update this post with new info. Oh, and the art attached to this article is a snapshot of Andreas's sketchbook. We're in Paris on vacation right now, but he's still working away, the poor guy. The above image is just one of many concepts for the cover, and not one that we're using. What he has come up with will be revealed later this month. Be sure to check back soon!
*New!*Q. What about Tim's past before meeting Ben? Any of that goodness in there?
A. Yup! What Tim went through in Kansas is crucial to understanding his character, so there is some of that, as well as life in Texas before Mr. I-Can't-Rollerblade crashes into him. I don't make you wait long before he and Ben finally meet though.
*New!*Q. What sexy formats will the book be available in? Can we preorder?
A. All the usual eBook formats: Kindle, Nook, iTunes, etc. iTunes will probably be out late, since they often manually review books, especially if there are naughty parts in them. You can always use Kindle for iTunes to grab the book right away, or get an iTunes compatible format from Smashwords. A paperback version will be available too, but since I'm an indie artist, there's not a convenient way I can set up a preorder. This is a small price to pay for getting to keep my royalties and not starve to death. Of course if I went with a traditional publisher, I'd probably have a sexier waistline. Then again, life is short. Somebody get me a cookie!