Something Like Autumn
won a stunning six awards! In which categories? How about Favorite All Time M/M Romance? Or Best Book of the Year? And then there's the award for Best Tear Jerker. It's a little crazy that this occupation rewards you for making people cry, but I'm not complaining!
Autumn
also landed awards in the Best Long Story, Contemporary, and Young Adult categories. These awards are powered by your votes, which makes them tremendously special to me. Thank you guys so much for being generous, awesome, and kind. I love you too!
Upon hearing the news this morning, I thought it would be nice to give something back. Spring was supposed to come out mid-February, but after some number crunching and some terrified glances in the mirror, I decided I can get it published even sooner. The official release date for Something Like Spring is January 30th. Mark those calendars, or better yet, sign up for my newsletter on the left and I'll send you a reminder on the big day. You can also pre-order the Nook version here, the iBooks version here, and other eBook formats here.
Since there's less than a month until the book is released, let's take a closer look at what the story is all about. What better way to do so than to examine the cover? Andreas's art will provide a few hints, and of course there's that big ol' back cover blurb. I'll let these things speak for themselves. After all, I've got a book to publish!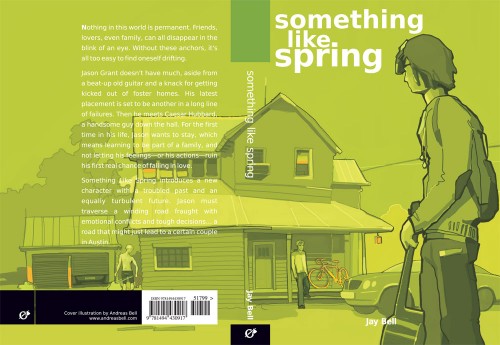 The votes have been tallied in the M/M Romance Member's Choice Awards, and you guys were good to me once again.