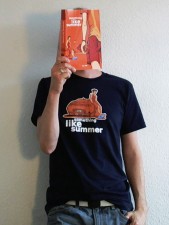 We've got Something Like Summer shirts for sale! Art prints too! We'll get to that in a minute. First I want to talk about something else that's changed. The cover art for Something Like Winter has been overhauled. To an extreme. Why? Well, Andreas doesn't have much time to work on these covers. First he'll read a late draft of a book to get the vibe. Then he has to dream up a cover and start creating it. My final drafts tend to go pretty fast, leaving him almost no time to revise his ideas. Thankfully, Andreas is used to working under the wire and keeps cranking out masterpieces. But with Something Like Winter, he was never completely satisfied. Personally, I like the cover we had, but when Andreas asked if he could change it, I wanted him to be happy. I figured he would touch up the cover a little. Instead, it's almost an entirely new composition. Check it out!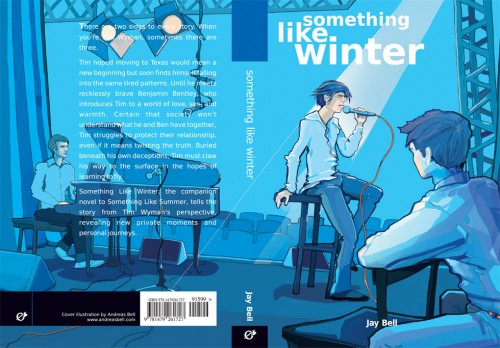 The guy up on stage playing the piano? Yeah, that's Tim Wyman. I'm always willing to let Andreas chase his own artistic vision, and this is perhaps the very best example because no, Tim cannot play the piano. Luckily, we'd always envisioned the cover to be Tim's dream of seeing Ben up on stage before their second reunion, and it's not hard to imagine Tim wanting to play some music for Ben to sing along to. The good news for those of you with the old cover art is that it will never be sold again or reproduced in any fashion. You have a genuine collectors item that will remain rare, especially considering that the old cover was sold for a mere six months or so. But what if you want to get your hands on the new cover?
Well, that bring us to the new merchandise. We've teamed up with Redbubble to provide you with quality art prints of all Andreas's book covers. Sound too fancy? There are posters too, which are sure to please your inner-teenager once taped to the wall. A variety of his illustrations from the Loka Legends books are also available as prints or postcards, as well as a selection of his non-book related art. My favorite though is the new Something Like Summer T-shirt, which is available in all sorts of colors and sizes. These shirts are the perfect way to subtly communicate your love for books and all things gay. Forget Grindr! I'm already dreaming of someone meeting their true love by wearing one of these shirts. Not guaranteed of course, or even likely… but not entirely impossible either.
If you guys like the idea of T-shirts and these sell okay, I have some really cool original ideas that don't utilize the cover art. Or feel free to make your own suggestions, because we'd love to hear them! You can visit our store on Redbubble right here.
Still not convinced about all of this? Check out this video of me showing off some of the new merchandise. Did I mention my father was a salesman? It's in my blood!