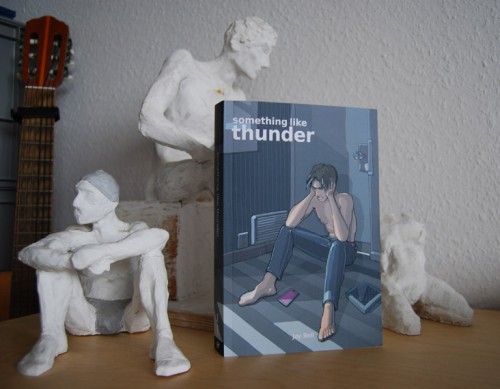 Something Like Thunder is here! And so are seven more prizes packs! We've already given away one at Joyfully Jay. There are still two up for grabs over at Boy Meets Boy and Sinfully Sexy respectively. That leaves seven more which you can win here! In case you missed the previous post, each prize pack includes:
-Any book from my back catalog (excluding Thunder), in eBook or Paperback format
-A set of Something Like Characters autographed art cards
-A $25 Amazon gift certificate
-A download code for any of my Audible audiobooks
How do you win? Each day I'll be posting a video asking you a trivia question relating to Something Like Thunder. The answer to the first question can be found in chapter one, the answer to the second question can be found in chapter two, etc. That means you'll need a copy of Thunder. Links where you can buy it are on the right. If you're broke, no problem because you can read the first five chapters for free on the product page. I'll be announcing the winner, drawn randomly, and revealing the next question in each video. I'll also include the crucial information in the video description in case you are hearing impaired or bandwidth challenged. To enter you'll need to email me here. The first video can be found below. Best of luck to you all. I hope you enjoy the new book!
Rules:
1. Contest is open worldwide.
2. Only submit your answer via email.. I'll announce the winner, chosen randomly, in a way that protects your privacy.
3. Please don't reveal the answer anywhere publicly. That will only decrease your chances of winning, since you'll be increasing the amount of people who enter.
4. If you live somewhere that doesn't use dollars, the gift certificate will be given to you in the currency-converted equivalent.
5. If you have a moral objection to Amazon, you can suggest an alternative retailer.
6. If you choose a paperback, please don't expect it to be autographed by me. My life is made much easier by having the printing press ship the book directly to you. I'll happily autograph the art cards for you.
7. You can only win once! Enter all you like, but after you've won, that's it. One prize pack per person please.