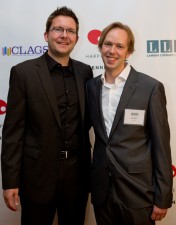 In three different ways no less! The Big Apple is one inspiring city, and to prove it, you have three mediums in which to relive our recent trip to New York. The first, good ol' fashioned prose, covers what went down at the 2012 Lambda Literary Awards. I wrote a guest post over at Reviews by JesseWave that covers all the details. Did Something Like Summer win? Did I get kicked out for eating too many h'orderves? You'll have to read to find out.
Andreas has put together a swanky PDF presentation, featuring photos from the trip. As a special bonus, you can see some of the sketches he made while there. These were all done on the scene, often over breakfast when I'm still too grumpy to socialize. View the PDF in full-screen mode and page through with the right arrow key to see it how the hunky artist intended.
Finally, you can check out the video below for a fast paced montage of photos, accompanied by none other than the Pet Shop Boys. How stereotypical of me! I've always been more an Erasure fan, really. Seems like you have to like one or the other to be a bona fide gay from the eighties. Have fun!