Feast those sweet little eyes of yours on the cover art for Something Like Winter!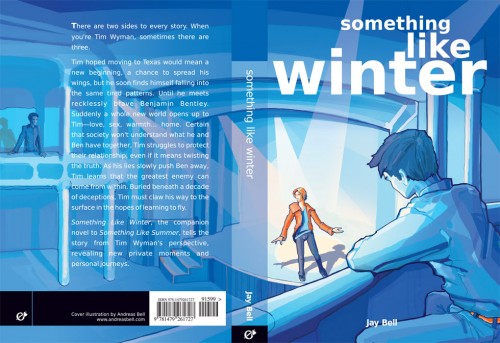 Andreas and I put a lot of thought into this one. We wanted a cover that harkened back to Something Like Summer. One of the earliest ideas we had was to invert that cover. Since Summer's cover is looking over Ben's shoulder at Tim, we figured Winter's art should depict Tim looking at Ben. We also thought it would be neat to invert the colors. Instead of orange with a touch of those wonderful blue shoes, we have blue with a kiss of sunshine from Ben.
Full cover art isn't really meant to be seen like this, with the front, back, and spine visible all at the same time. Something Like Summer had Ben on the back as well, so likewise we get to see another image of Tim here. Of course the full view makes it look like there are two Tim's in one place, an idea that has me fanning my nether regions. Yeah, you heard me right. Let's return our focus to the art. Didn't Andreas do a fantastic job? Don't you just want to kiss his face and tell him how adorable he is? I know I do!
Something Like Winter is due out on November 2nd. You can learn more about the book by reading the blog entry before this one. I'll see you guys then!