I'm always a little bit uncomfortable writing about myself. It feels too egocentric. Then again, I enjoy stalking people online, so it's only fair I allow others to do the same.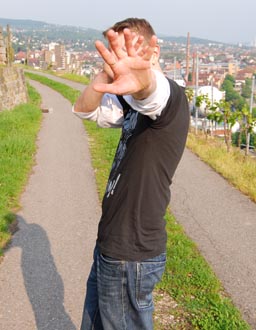 My name, if you haven't guessed already, is Jay Bell and I was born February 19th, 1977 in Merriam, Kansas. For simplicity's sake let's say I grew up there, although I also spent a decade in Missouri and Texas somewhere in between. I suppose my childhood could be summed up in two words: rebellious nerd. Come to think of it, that pretty much covers my teen and adult years as well.
I was never much for school. Professionally I got by doing tech support or other computer related jobs. While working in Lawrence, Kansas I met my future husband. Andreas was an exchange student from Germany, a country I hadn't given much prior thought to. Andreas was that just-right combination of handsome, intelligent, kind, and talented for me to fall in love. What he saw in me is the real mystery, but we packed up the cats and moved to Germany to get married.
Not being able to speak German left me blissfully unemployable and allowed me to focus full time on my writing. I've always loved books, delving into fantastic worlds and letting myself get lost there. I grew up marvelling at the creative genius of C.S. Lewis, Piers Anthony, Robert Asprin, Terry Brooks, even that guy that wrote the Mr. Men books. The list could go on and on. It's a daunting task to try and add my own stories to the countless volumes already out there, but I'm giving it my best.
After living in Germany for over a decade, we moved to Chicago, mostly because Andreas was offered a job opportunity, but man am I glad to be back! If there's anything else you'd like to know, feel free to ask. Reading my blog will reveal most of my hobbies and interests as well. Or you can check out the interviews below. And hey, just so this isn't all about me, feel free to tell me about yourself below. We can start our own biography party!
Interviews with Jay Bell:
Video and text interview at Hearts on Fire (Aug 2015)
Podcast interview at Your Hollywood Pro (Jul 2015)
Guest post on Prism Book Alliance (Oct 2014)
Interview at Boys in Our Books (Feb 2014)
Interview at Prism Book Alliance (Feb 2014)
Interview at Lambda Literary (Jun 2013)
Huffington Post interview about movie (Mar 2013)
Interview at True Colorz (Jan 2013)
Interview at 'Raant' (Oct 2012)
Movie Interview at 'Reviews by JesseWave' (Jan 2012)
Interview at 'Diary of a Gay Erotica Author' (Sept 2011)
Interview at 'Taboo Indeed' (Jun 2011)