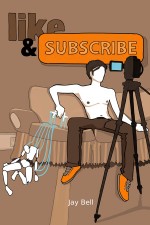 Remember that hunky guy on YouTube who caught your eye? The one with the awesome pecs and killer smile? I bet you couldn't stop watching his videos. Just imagine if you had a chance to meet him and all your fantasies started coming true. There's only one catch: Between you and your dream guy is his less-than-pleased boyfriend. They say that love conquers all, but can love conquer love?
Like and Subscribe is a free short story available on Amazon
, iTunes, Google Play, Barnes & Noble, and Smashwords. You can also listen to the entire audiobook below:
The Like and Subscribe audiobook is also available for purchase from Audible, iTunes, or Amazon
.