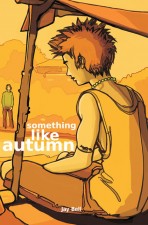 Love can appear unexpectedly: a chance meeting at a friend's wedding, a handsome new co-worker… or while being robbed at a convenience store.
For some, love seems an impossible dream. Growing up gay in small-town Missouri, Jace Holden thought his chance would never come. When he meets Victor—a wild soul and fellow outsider—his odds of finding love go from bleak to a very uncertain maybe. Bracing his heart, Jace chases after his desire, hoping for a warm hand to take hold of his own.
Something Like Autumn tells the story of Jace's life before the events of Something Like Summer, while also revisiting his time with Benjamin Bentley.
The Premise: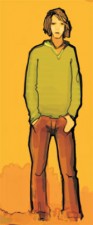 Who is Jace? In Something Like Summer, we get an impression of a kind man with a good head on his shoulders. While we get to know who Jace is, we don't learn how he came to be so mature, where he comes from, or even his last name. Something Like Autumn explores Jace's origins, starting with his teen years. We get to see the building blocks of his persona—the experiences and relationships that shaped him. This journey continues through college and beyond to his time with Ben. Those who felt the end of Something Like Summer went by too quickly should find satisfaction in seeing previous events from Jace's perspective, while also discovering many new moments that Ben and Jace shared.
The Audio Book:
The narrator, Kevin R. Free, does an exceptional job of conveying the emotional nature of this story, and brings humor to the story's lighter scenes as well. The audiobook is available from Audible, Amazon
, and iTunes.
Reading Order: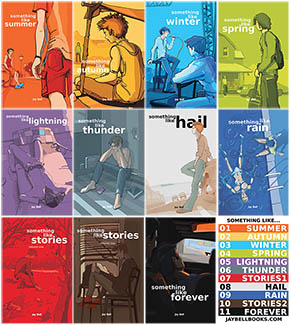 The Something Like… Series:
Book 1: Something Like Summer
Book 2: Something Like Autumn
Book 3: Something Like Winter
Book 4: Something Like Spring
Book 5: Something Like Lightning
Book 6: Something Like Thunder
Book 7: Something Like Stories – Volume One
Book 8: Something Like Hail
Book 9: Something Like Rain
Book 10: Something Like Stories – Volume Two
Book 11: Something Like Forever
Reviews:
From Well Read:
"As an author he just keeps getting better and better and I highly recommend this latest book. For those of you who have read the other books in this series, don't be put off by knowing the ending of this book because you will miss out on meeting the wonderful character of Jace properly and that would be a great shame" …read full review
From All About Romance:
"–readers should know that these books stand alone well and are perfect to laugh and cry over. They are audience-participation novels to the fullest. Summer was a two-hanky book, Winter a one-hanky tale, but Autumn tops them all as a multi-box book. Read it on public transportation at your peril." …read full review
From MM Good Book Reviews:
"If you ever have to read a novel before you die, it will be this precious little gem here. Something Like Autumn is the story of Jace Holden before the events of Something Like Summer. And let me tell you that I fell in love with him in that novel, but now, I'm completely and madly in love with him with this one."…read full review
Awards:
Winner of six awards in Goodread's M/M Romance Member's Choice Awards:
–Best Book of the Year
–Favorite All Time M/M Romance
–Best Tear Jerker
–Best Best Long Story
–Best Contemporary
–Best Young Adult
News and updates:
Curious about the latest news and insights involving Something Like Winter? Check out these related blog posts!