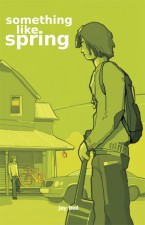 Nothing in this world is permanent. Friends, lovers, even family, can all disappear in the blink of an eye. Without these anchors, it's all too easy to find oneself drifting.
Jason Grant doesn't have much, aside from a beat-up old guitar and knack for getting kicked out of foster homes. His latest placement is set to be just another in a long line of failures. Then he meets Caesar Hubbard, a handsome guy who lives down the hall. For the first time in his life, Jason wants to stay, which means learning to be part of a family, and not letting his feelings—or his actions—ruin his first real chance of falling in love.
Something Like Spring introduces a new character to the Seasons saga, one with a troubled past and an equally turbulent future. Jason must traverse a winding road fraught with emotional conflicts and tough decisions… a road that might just lead to a certain couple in Austin.
The Premise: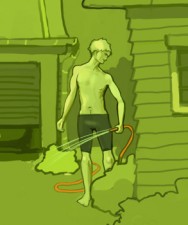 Each Something Like… book has been from a different perspective. We began the story with Ben, then we got to see Tim's side of the story. We even spent some time in Jace's shoes. After three books, it's safe to say the events of Summer have been thoroughly explored. So with Spring,it feels like time to move on, to take a trip to the future and see what happens after the previous three books. We do so through a fresh pair of eyes, one belonging to a character we haven't met before. Jason Grant has his own story to tell, but eventually he also learns about Ben and Tim's past, allowing us one final glimpse back. Since Jason wasn't involved in previous events, he has perhaps the most unbiased perspective. And he can ask the last lingering questions. He also takes part in the future. Time is moving on for Ben and Tim, and Jason is there to witness what happens. By reading Something Like Spring, you can be there too!
Reading Order: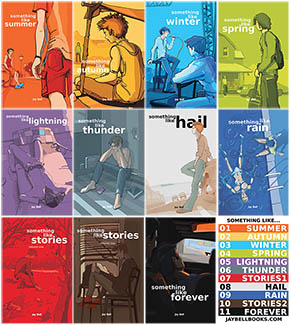 The Something Like… Series:
Book 1: Something Like Summer
Book 2: Something Like Autumn
Book 3: Something Like Winter
Book 4: Something Like Spring
Book 5: Something Like Lightning
Book 6: Something Like Thunder
Book 7: Something Like Stories – Volume One
Book 8: Something Like Hail
Book 9: Something Like Rain
Book 10: Something Like Stories – Volume Two
Book 11: Something Like Forever
Reviews:
From The Novel Approach:
"I got so completely immersed in the amazing universe where Tim and Ben live that I lost hours of my life to them. And somehow, it could never be enough." …read full review
From Boy Meets Boy Reviews:
"I love to fall in love with characters, as we all do. This series in particular has a set of characters that I can't get enough of and Jason fits right in with the rest of them."…read full review
From Prism Book Alliance:
"Jason intrigued me from the beginning and his story pulled me in and made me care very much what happened to him. … Something Like Spring was a very worthy finish to a superb series."…read full review
News and updates:
Curious about the latest news and insights involving Something Like Spring? Check out these related blog posts!