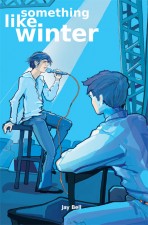 There are two sides to every story. When you're Tim Wyman, sometimes there are three.
Tim hoped moving to Texas would mean a new beginning but soon finds himself falling into the same tired patterns. Until he meets recklessly brave Benjamin Bentley, who introduces Tim to a world of love, sex, and warmth. Certain that society won't understand what he and Ben have together, Tim struggles to protect their relationship, even if it means twisting the truth. Buried beneath his own deceptions, Tim must claw his way to the surface in the hopes of learning to fly.
Something Like Winter, the companion novel to Something Like Summer, tells the story from Tim Wyman's perspective, revealing new private moments and personal journeys.
The Premise: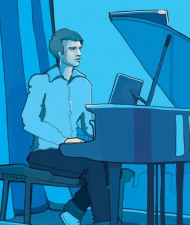 Something Like Winter is more than a simple retelling of Something Like Summer. For much of the first book, Ben and Tim go their separate ways. Tim lives through a lot in his time apart from Ben. By the end of the first book, he's clearly grown and changed. Something Like Winter finally allows the reader to understand Tim's motivations and how he becomes the man he does. Of course the story can't be told without reliving some of the scenes from the first book, but an effort was made to leave many of Something Like Summer's most memorable parts exclusive to that book. Instead, the times that Ben and Tim spend together are sprinkled with new scenes—moments that the reader didn't experience the first time around. In the end, only about 27,000 of nearly 130,000 words retread previous scenes, meaning Something Like Winter is less of a retelling, and more of a completely new experience.
The Audio Book:
Narrator Kevin R. Free has done a wonderful job of bringing the world of Something Like Winter to life. Check out a free sample below. The audio book is available from Audible, Amazon
, or iTunes.
Reading Order: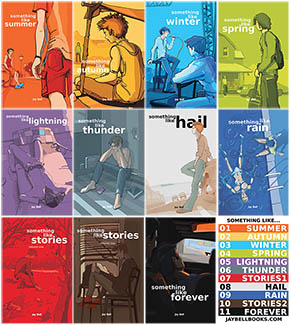 The Something Like… Series:
Book 1: Something Like Summer
Book 2: Something Like Autumn
Book 3: Something Like Winter
Book 4: Something Like Spring
Book 5: Something Like Lightning
Book 6: Something Like Thunder
Book 7: Something Like Stories – Volume One
Book 8: Something Like Hail
Book 9: Something Like Rain
Book 10: Something Like Stories – Volume Two
Book 11: Something Like Forever
Reviews:
From Well Read:
"I've become a huge fan of this author. There's something special about the way that he writes characters and imbues them with true emotion which reaches out to me as a reader. This book was no exception. For those of you who have read Something Like Summer, this is an absolute must read." …read full review
From Rainbow Book Reviews:
"'Something Like Winter' by Jay Bell is a labor of love. By revisiting the intense, emotional journey of its prequel, 'Something Like Summer', he's given us not just a rehash of events, ones which we experienced in the first book, but a broader, deeper understanding of Tim's motivations and actions as he struggles through his feelings–" …read full review
From Man Oh Man Reviews:
"Tim is a beautiful person, despite and because of, his many flaws. His greatest love though is Benjamin Bentley and everything he does in his life is to get him back to Ben."…read full review
Awards: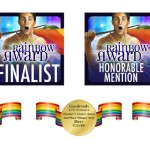 Winner of three awards in Goodread's M/M Romance Member's Choice Awards:
–Best Contemporary Story
–Best Couple
–Best Cover
Honorable Mention as judge favorite in the 2013 Rainbow Awards, and finalist in the Gay Romance category.
News and updates:
Curious about the latest news and insights involving Something Like Winter? Check out these related blog posts!