Looking for more than just pretty books to decorate your shelf? If so, we've got you covered! Stuff to wear, stuff for your wall, and stuff for that special person in your life. Shopping here helps support us and keep the whole book thing going, so thanks in advance for browsing our merchandise.
T-shirts
Represent your love for gay romance with these Something Like… themed T-shirts. Take Mr. Blue shoes out jogging with you, or strut around the mall and show people you've got great taste in books. These shirts are designed by that guy I'm married to and are available in a number of sizes. You get to choose the color too! The patterns below are all available. Visit our RedBubble store to see them in greater detail or to buy.
| | |
| --- | --- |
| | |
| | |
| | |
| | |
Art Prints, Posters, and Cards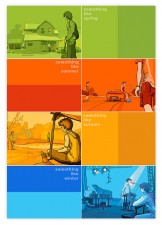 I'm a big fan of my husband's art. If you are too, you can add some of his work to your collection! Available is art from the book covers, illustrations of the characters, and also original drawings and sketches. A variety of formats ranging from from cheap to fancy include post cards, greeting cards, art prints, and more. The choice is yours! We even have a special poster of the Seasons series too. Discover all of this and more at our RedBubble store. Or watch the video below to learn more about your options and the different levels of quality.

Character Art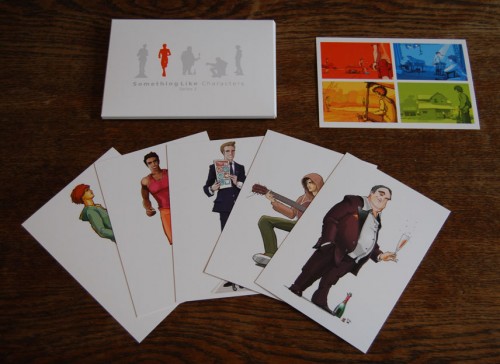 Autographed Books
This is usually where I explain how to get an autographed book, or the character art cards you might have seen advertised at the end of the Something Like… novels. At the moment, my schedule is too hectic to mail things out, and sadly, I don't have an assistant. I get the most requests around the holidays, and that's when I open the possibility. I've already done so for 2016 and that window has now closed again. Check back in mid to late November 2017, or sign up for my newsletter to be alerted to when I am signing books and cards again.